A Tale of Two Coasts: Q&A with Xconomy's Curt Woodward
Apr 08, 2014 admin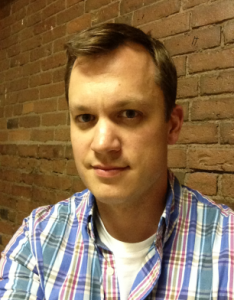 Curt Woodward of Xconomy Boston is a familiar face to those of us in Boston's tech and innovation space. He brings a colorful range of experience to the table having covered such topics as business, law, politics and government, in addition to startups and innovators in the tech space. Before coming to the East Coast, Curt wrote for Xconomy's Seattle bureau. Having myself recently made the reverse move by relocating to San Francisco from Boston, I was eager to pick his brain about the misconceptions and realities of each environment. The result? A handy manifesto on such PR essentials as crafting the perfect pitch, foreseeing industry trends and, of course, finding a good cup of joe.
Courtney: I've noticed members of the tech community in San Francisco attend after-work seminars and networking events more frequently than those back in Boston. What are some distinctive traits you've noticed that are inherent to the communities on each coast?
Curt: I don't know that there's anything remarkably different about the people in Boston startups and early stage companies, other than their numbers. There are just more of them here than in Seattle. Both cities tend to indulge in the overwrought civic navel-gazing that asks, "How can we be more like Silicon Valley?" Generally, I think Boston would kill to have the big-name tech company headquarters that Seattle has. And Seattle would kill to have the amount of venture and angel dollars that Boston startups have.
CD: Do you have any advice to share when it comes to pitching writers out West versus those who write back East?
CW: I think pitching on one coast or another might have some differences around the edges, but really it's no different overall. Just being a student of the individual media markets and writers is always the way to go. People are competitive everywhere, and will always hate when the in-town press gets snubbed in favor of some bigger-name or out-of-town publication that people think will make them more famous or something.
CD: What are the key characteristics that you yourself look for in a pitch or potential story? Can you give me an idea of the different types/styles of pitches you tend to get, and which you prefer?
CW: Most pitches are garbage. There's a simple reason for that: the kind of thing a CEO or marketing VP thinks is a "story" or even mildly interesting is just not interesting to 99 percent of the rest of humanity. There are some writers and publications who are on the "hamster wheel" of constantly churning out copy, and God love them for it - I know PR shops do! But any other writer worth their salt wants to write things that are new, different, ahead of the curve, things that crackle with conflict and intensity and change and all kinds of big ideas.
They also want to be creative, otherwise they'd get into technical writing or something. I'd much rather just talk it out with a good PR person and try to find my way to something original. I usually say "news is what interests ME." That's just one element, but it's true. It's not about how you package a story, but whether you actually have one to begin with. People focus too much on tactics and packaging and all that other stuff, which is just overcompensating for not having an interesting story in the first place.
CD: What kinds of stories do you find drive highest page views/traffic?
CW: I think my highest-trafficked posts of all time have been rants - specifically, rants that made fun of a company for putting out misleading numbers or incomprehensible words. Like these:
Amazon's Fuzzy Math: Stop Encouraging Them
Say What's 12 Moments of Nonsense in Microsoft's Reorganization Memo
I think there are two reasons for that. One is style, the fact that they're written very free-wheeling and in a way that pokes fun at the powerful. But the other is substance: you're calling bullshit on someone, and really just pointing out an obviously ridiculous thing that other people have seen or commented on to themselves. It's not Watergate or anything, but in some small way that kind of writing can fulfill an essential function of journalists, which is to be the rude guest at the dinner party. (I heard that metaphor somewhere else, but I've never been able to find out the source to give proper credit!). Beyond that, any honest-to-god scoop about a big company or something that reveals the previously hidden will always get eyeballs, for good reason. Like these:
Apple's Boston-Area Team: Working on Speech in Nuance's Backyard
Amazon's Cambridge Office Confirmed, with Room for More Than 600
CD: What do you see as the hottest trends in the Boston tech scene right now? San Francisco?
CW: I think Boston could very well become a major center of hardware and connected device startups. Nest and Oculus are the big-deal companies from that sector in the Valley recently, but Google also bought Boston Dynamics, a company out here that makes really insane-looking robots. The hardcore engineering talent across robotics and all kinds of devices is already here, and veterans of the scene are out doing things in the startup world, including the Bolt accelerator and Dragon Innovation. You've got Superpedestrian*out of MIT making next-generation motor-assist bike wheels. There will be more to come, and the changing landscape for financing these companies is helping them immensely.
*Superpedestrian is a client of InkHouse.
Google Buys Robot-Maker Boston Dynamics - video
Superpedestrian Starts Selling "Copenhagen Wheel" Electric Bike Kits
CD: Let's talk startups. Do you look at local startups through a different lens when writing on one coast or the other?
CW: In some ways, especially the way we work at Xconomy, you have to evaluate each story in relation to its local market. So, for instance, a particular startup might not normally be worth a big story early on, but if it's headed by a notable person from the community, that makes it worth covering. You also have to take competitive dynamics into account - I don't really want to tread over the same ground someone else has already been on.
CD: What was your biggest misconception about Boston's tech scene prior to making the move from Seattle?
CW: I don't think I realized how huge the biotech industry was here. Our office is in Kendall Square, which has been the traditional startup zone in the Boston area for a while. The place was not much to look at a couple of decades ago, but today it's jammed with pharmaceutical company headquarters. And there are more being built right now. That has jacked up the rents, and startups are heading to places like Downtown Crossing or Somerville to find affordable offices.
CD: Last but not least – you've lived in the hubs of both Starbucks and Dunkin' Donuts. Which takes the cake?
CW: I mean, if I had to pick, obviously Starbucks. But the real answer is that Starbucks is where people from Seattle go for coffee when they're traveling - at home, you've got four or five serious coffee shops within walking distance at any given moment. I've had Dunkin' Donuts coffee exactly once and it was an emergency, in preparation for Hurricane Sandy.
I don't think people actually realize how serious the coffee situation is in Seattle. It's because of the weather, I think. I spent a couple of months when I first got to Boston just trying to find actual strong coffee. I now have a good idea of where to go, but there should be 10 times as many! I don't know how people survive the winter.
To read Curt's Xconomy work, click here. You can also follow him on Twitter @curtwoodward. Find Courtney on Twitter @cduffy90.