Twitter Experiments, Old Spice Revival, iPhone Does it All, Google Takes TV? and Halloween Infographic
Twitter Tests "Top News" and "Top Story"
Word on the street (and OK, on TechCrunch), is that Twitter is testing out new "Top News" and "Top People" features. It seems as though some users are seeing these categories highlighted at the top of Twitter's real-time search results. Enter a popular search term and you'll see a highlighted boxed result with a link to a top news story along with a thumbnail image from that article or blog post. This is a pretty smart idea, and I agree that publishers are going to be vying for that top slot, as they will inevitably see much more Twitter traffic. Have you noticed this new feature on your page? Read on here.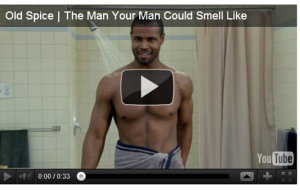 Most of us remember Old Spice's "The Man Your Man Could Smell Like" campaign, featuring spokesman Isaiah Mustafa. The funny commercials received numerous industry accolades in 2010 and Mustafa starred in hundreds of YouTube videos, responding to fans and bloggers by name, answering their questions on screen. But, like the famous Budweiser "Wassup" campaign and the "Dude, you're getting a Dell" character, Old Spice execs worried that Mustafa's appeal had come to an end. So, how did they revive a campaign that no one wanted to touch? They created another hugely successful social media campaign…and added Fabio.
5 Tips for Creating Video & Audio Content with Your iPhone
In a previous news round-up I shared iPhone 4S news, including glowing reviews for its advanced camera and video capabilities. So, now that you know the camera is awesome, what are you going to do with it? What Social Media Examiner writer Tom Martin is doing is using his iPhone—and only his iPhone—to conduct interviews, edit material, and post the final product on his blog for a new project. Want to know what Tom learned about capturing audio, pictures and video with nothing but an iPhone? Read on here.
How Hotels and Travel Companies are Nailing it on Social Media
Before booking any trip these days, most people's first step is to read online reviews of that destination, hotel, activity, etc. In addition to the restaurant industry, the travel sector is unique in that its success is so closely linked to online reviews. So when hotel chain Accorhotels—which runs Sofitel and Motel 6, among others decided to feature TripAdvisor reviews on its site, it was a very gutsy move. The key, according to Forrester Research, is to "figure out a way to control some of that social media chatter by using social media as a sounding board for positive experiences." How have some of the savviest players in the travel industry done just that? Read more about their social strategies here.
Google Disrupting the TV Business?
Could the search giant have its eyes set on TV? Maybe. Already extremely successful in online advertising, Google has announced plans to build a fiber-optic high-speed internet service and may be looking to expand that into video and phone services as well. If the rumors are true, that would mean that Google could not only sell subscriptions to these TV channels, but it could also sell the advertisements that would run on those channels. Find out more here.
Hottest Halloween Costumes Infographic
Thanks to Jen's last post on how visual aids can help you understand abstract ideas and retain important subject matter, we all know how powerful infographics are. And, this past week, the subject matter on the forefront of many minds was Halloween costumes and what was going to be the top trend in 2011. So, for fun, I share this spooky infographic to show which costumes (and candy) received the most online buzz this week. Boo!