10 Ways PR is Like a Spin Class
Jul 27, 2011 admin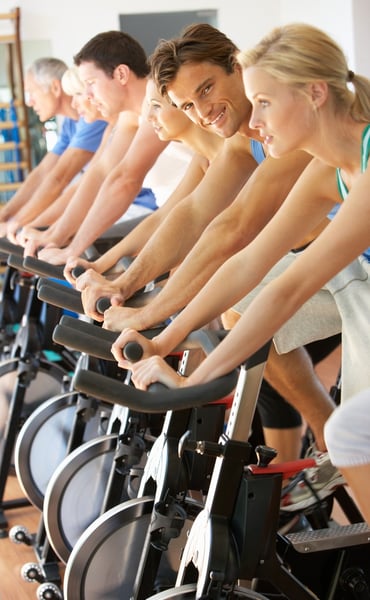 If you've taken a spin class you know it can be a demanding, grueling, yet ultimately rewarding endeavor. Sound like a job in PR to any of you? Last night while sweating through another spin class, I started making mental notes about some traits both PR and spinning share. What follows are 10 ways PR is like a spin class.
It's a woman's world. True, women reportedly make up anywhere from 70 to 85 percent of the PR workforce, and from my own experience I can non-scientifically report the same in spin classes. Some men see this as a deterrent; others, an incentive. But guys, neither spin nor PR is just for women, so get out there.
Mix up your routine and learn from others. It's a good idea to mix up your schedule and take classes with other spin instructors. Even if you're partial to your regular instructor, the new instructor will take you on new rides and give you different things to think about. Once you return to your regular instructor, you can apply new techniques you've learned. The same goes in PR, especially in an agency setting. Don't limit yourself to working with your everyday team members or reporting manager; seek out new opinions and strategies from other leaders in your office. I've found that no two people in an office tackle a problem/opportunity in the same way. Take in all points of view, and apply what works best for you.
Please don't stop the music. This is a must during an hour-long spin session. Most spin instructors keep things moving with fun, short pop songs (this is how I keep up on the latest from Pink and Britney). In the InkHouse office, we keep things light and energetic with a Sonos office radio. Not only does this help promote an upbeat, productive office environment, but we also don't have to sit in silence and listen to each other tap on the keyboard.
It's about personal drive. YOU have to show up every day at the office and drive yourself; PR can be a very self-driven industry, and you need to make things happen on your own. Just like YOU have to show up at the gym for an hour of torture.
Get out of your comfort zone. My regular instructor always challenges us to do this—to keep sprinting even though your legs are on fire, to pedal harder than you want to. The same principle applies to PR. Don't get settled into habits that you've already mastered; learn new skills on a regular basis and challenge yourself to do the things you're not comfortable doing. Read a new publication, become more of a presence in client meetings and make calls to reporters you've never worked with before. If you settle into routine, you won't grow—on the bike or in the office.
"Go! Go! Go!" My instructor shouts this often when we are sprinting, but anyone in PR will tell you that we're always on the move, hustling to the next project or client and juggling multiple balls in the air. There's rarely downtime.
Don't forget the fundamentals. My instructor, no matter how many times she's already said it in the last six months, never stops stressing the fundamentals of riding the bike. Heel down, push-pull, back straight, abs in, etc. These instructions are vital to ensuring you don't hurt yourself and that you get the best results. Similarly, in PR you must master the fundamentals of a successful PR professional—staying organized, being deadline-oriented, multi-tasking, writing clearly, etc—in order to be effective. InkHouse co-founder Beth Monaghan had a great "fundamentals" blog post recently about writing a press release that people will read.
"Turn up the heat." A friend told me this is how her instructor described increasing the resistance on the bike. Just like you are in charge of resistance in spin class, the best PR people are the ones who challenge themselves the most and take it up a notch.
Draw energy from other people. In a spin class, all 15-20 of you are in it together, working toward a personal and common goal (usually getting done as soon as possible!). Likewise, being a part of a team in the office drives you to work harder to help the team succeed. Your dependence on others and their dependence on you push productivity more than solo projects.
Energy at the top. Just as an energetic spin class instructor gets you to do more on the bike, an energetic manager or VP in your office will help you get the most out of your abilities. In both situations, the best leaders know how to motivate you to work harder than you could without them.
There you have it—10 ways PR is like a spin class, and I didn't even make any lame "spin cycle" puns. If you like one, give the other a try. They're more similar than you think.