3 Low-Cost Ways to Build Awareness, Drive Traffic and Generate Leads with Influencers
Sep 19, 2019 admin
There are lots of misconceptions around influencer marketing -- one of the biggest is the idea that it requires budgets in the tens or hundreds of thousands to be successful. Sure, if you want a celebrity endorsement, you'll certainly pay that (and then some). But when Kim Kardashian endorses a new green drink or weight loss supplement, do you really believe that she's a raving fan? I don't buy it, and I don't think most of America does either.
The best influencer marketing is authentic, often with individuals with smaller, niche audiences -- in fact, micro-influencers drive 60 percent higher campaign engagement rates and are 6.7 times more efficient per engagement than influencers with larger followings.
If you're a B2B brand, keep reading. This isn't about how to engage Instagram stars or consumer-focused voices only. It's about how to successfully engage with content creators in a meaningful way, regardless of industry.
The key to creating a successful relationship with the right type of individual for your business without breaking the bank is to create mutual value. It requires you to understand what's important to them and get creative in your approach.
Unlock Opportunities by Giving
Universal truth: Influencers want to delight their readers and grow their audience and influence.
That might seem like an obvious statement, but truly understanding this can help you back into the most effective approach for your pitch and campaign. While monetary compensation might be the easiest thing to ask for or provide, a mutually beneficial relationship can be created by helping fulfill other more basic needs that generate long-term value and are sometimes more difficult for an individual to achieve on their own.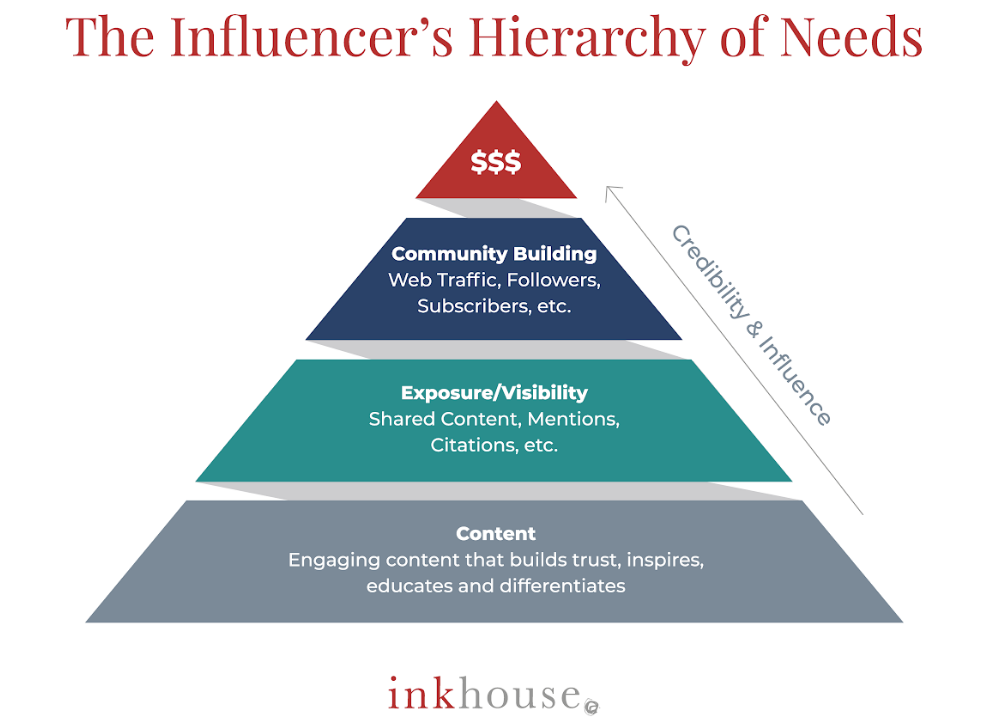 That's where you come in.
Here are a few ways you can tap into these needs in order to create mutually beneficial relationships that can drive real impact for your brand:
1.Pitch branded content
For any content creator striving to become more widely known, followed and well -- influential -- there is one basic need that must be met in order to reach their ultimate goal: content.
And not just any content -- consistent, engaging content that inspires, teaches or entertains their audience and helps to establish them as an expert and thought leader in their field. Your opportunity is to help them create that.
The biggest difference between influencers and journalists is that influencers have little to no obligation to be objective -- in fact, much of their success hinges on having a unique point of view. Tap into this by giving them content that would be helpful to their readers like a whitepaper, infographic, compelling data from a study or even unique quotes or an interview on an important topic and ask them to share their perspective.
Content that creates an opportunity for them to provide value to their readers, share their point of view and position themselves as a subject matter expert is a win-win.
The outcome: An authentically written article by an influential voice, read by peers and followers, supported by your data and/or imagery that inserts you into the conversation. Don't be afraid to ask for a citation or a link to a relevant page on your website to provide readers with more information on the topic. If you've provided value to the blogger, this type of request is usually obliged.
Potential value to you: Brand awareness, web traffic, SEO value, social engagement, leads
2. Co-create branded content
Even if someone is doing great things and creating excellent content, it needs to be seen in order for their influence to grow. They need PR and marketing to promote themselves.
Create an earned media opportunity for them. Whether you're creating a blog post, eBook, whitepaper or video, use the expertise of those in a relevant industry as part of your content development plan. This tactic is especially great for B2B brands, where long-form content is often the backbone of marketing programs.
The outcome: Credible, branded content that practically writes itself by enlisting the help of others. Influencers get access to your audience which could result in new readers and followers and will benefit from the association with other credible voices in their industry. The likely result? They'll share it with their networks and give your content a ton of free visibility before you've made any manual effort to promote it. If your experts are selected strategically, those networks may be full of your potential customers.
Potential value to you: Brand awareness, web traffic, SEO value, social engagement and leads
3. Tap Into Your Own Advocates
People like to share new discoveries they've made, successes they've had and for those who are striving to be seen as an authority on a topic -- provide advice on how to overcome a challenge through those discoveries.
We see it all the time, often unprovoked by a brand-- someone snapping a photo of their groceries at their doorstep thanks to a new delivery service, a snap of a new pair of shoes, a selfie at a new restaurant, a tweet raving about software features that make someone better at their job.
This concept leads us to the reason you should be tapping the most powerful group of influencers: your own followers -- whether these are friends of the brand, employees, customers, donors, partners, or investors. Three out of four people trust opinions shared on social media to help them make the right decision about a product or service, so if you aren't tapping into your raving fans to help move your message forward, start now.
The outcome: Leverage these advocates to create video testimonials, review new products or features, refer new customers, etc. Brand advocates can help boost the reach of content, sway prospects and improve customer confidence and loyalty.
Potential value to you: Brand awareness, web traffic, SEO value, social engagement, leads and increased customer retention. Referral programs can boost acquisition by anywhere from 10-30%, and those new customers typically spend up to 25% more on their first purchase!
Influencer marketing can be a powerful tool for your brand that doesn't require a massive out-of-pocket budget to yield impactful results. As with any campaign, analyze your results, refine your strategy and continue the initiative as an ongoing conversation with an audience. Repetition equals results, so stick with it.
Want an experienced team to do the work for you? Reach out to workwithus@inkhouse.com to get started.