Clarifying Moments: An Employee Essay From "Aren't We Lucky?"
I stood in the greeting-card aisle of my local grocery store, my mental state beginning to fall apart. Thankfully, my fiancé became aware of the unexplained panic in my eyes. With a mask on and latex gloves stretched tightly around his clenched fists, he understood that we needed to pay for our rations of skim milk, English muffins, and one-ply toilet paper as quickly as possible in order to avoid a very public meltdown. Ultimately, though, leaving a grocery store during a pandemic with a carriage filled with essentials was not going to be a fast process.
As we stood in the checkout line, I started a breathing exercise among the beeps and dings of cash registers. I forced a picture of an ocean into my mind's eye. I stood waist deep amid the tide building and crashing on the shoreline. As I breathed in, one single wave began to rise and threatened to pull me under—until I breathed out and it settled around me, leaving me standing alone, waiting for the next one.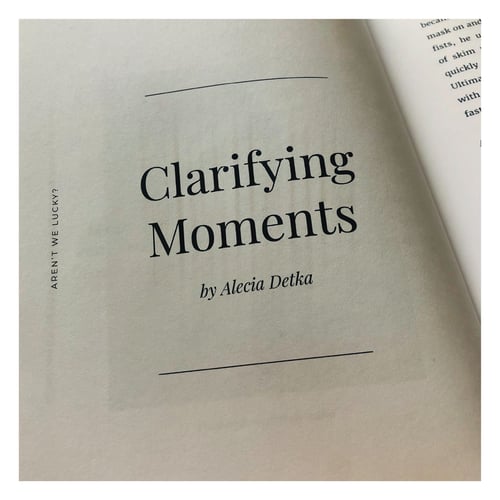 This breathing technique was one of many coping mechanisms I learned about nearly a decade ago, when I received the help I needed to treat such overwhelming moments of anxiety.
I was officially diagnosed with an anxiety disorder when I was nineteen years old, but I was always mildly aware of my anxiety throughout my childhood. According to the CDC, a child who is extremely afraid of being away from his or her parents is exhibiting a prominent sign of anxiety. But when I was between the ages of nine and thirteen, people mistook this tendency in me as my being too young to go off on my own.
This fear first became real the summer before fourth grade, when I visited my aunt and uncle in Maine while my parents remained home in western Massachusetts. This vacation was cut short by an entire week when my aunt discovered I was in a state of constant panic, crying myself to sleep each night as I tried to muffle the sound of my tears, facedown in a pillow, the comforter pulled above my head. I wasn't upset that I couldn't be with my mother; I was desperately afraid that I would never see her again. This feeling quickly disappeared after an eight-hour car ride home, during which I was content knowing that I would spend the rest of my summer by her side.
Things changed when, at sixteen years old, I secured my first job, as a wedding server, working for my town's local country club. My twin sister and I arrived early for our first shift. As that night's wedding reception kicked off, I took meticulous notes on each guest's dinner order and took extra care to avoid the notoriously ill-mannered chef. Despite these efforts, I could sense everything building to one moment of extreme hysteria, and all I needed to set me off was one question from my boss: "Alecia, are you okay?"
As we locked eyes, I broke down in tears. My new coworkers circled around me, and my boss rushed me out of the kitchen, into an empty reception hall, before I dove headfirst into my anxiety attack. It was the first time my anxiety had completely taken control of me, and I knew of no way to ease the nauseated feeling in my stomach, the heat that spread from my chest into my neck, or the suffocation of my lungs. I was drowning.
Again, my parents rushed to me. This time, as my father stormed into the hall with the air of a protective bulldog, their presence did not bring the relief I was expecting. Instead, I felt extreme disappointment as I faced the failure that my first job had turned into. I was no longer a child. At sixteen, I thought I was running out of excuses for such distress.
At that moment, my anxiety transformed. It wasn't just a feeling of dread that manifested itself in situations that were new and uncomfortable; it became a constant fear of failing. If I could avoid failure altogether, I would never have to feel out of control again. I hid behind this idea, pushing myself to maintain a 4.0 grade point average in school, join a theater group, volunteer, and apply for colleges far from home. It was my anxiety that drove this sense of overachievement. I never allowed myself to enjoy the success that came with these endeavors, and I wasn't actually managing my anxiety—I was simply attempting to deny it.
It took another three years and a final anxiety attack, following a presentation for my Journalism 101 class at Hofstra University, before I decided to discuss these feelings with my doctor. While I had previously convinced myself that I didn't need treatment, running out of the classroom in a full panic meant that I could no longer hide my anxiety and that I was undermining the very achievements that I had used to keep this panic at bay. It had officially become too much for me to handle on my own.
Driving to the appointment, I became overwhelmed with that familiar fear of failure: I couldn't manage my anxiety, and I had little hope of doing so in the future. As I explained this fear to my doctor, my legs tightly crossed and my hands clasped in between my thighs, he told me of his own anxiety growing up. I began to slowly exhale as he coached me through mine, sharing coping mechanisms, medication options, and the potential relief that therapy could offer.
Through these resources, I learned a key difference between moments that required a bit of anxiety and the fear of failure alone: Anxiety would always be a part of my life, but being afraid of failure did not deserve such panic, and it shouldn't cause me to diminish my accomplishments either. Instead of hiding behind my achievements as reasons not to feel anxious, I took the time to enjoy each one. Instead of focusing on my fear of failure, I recognized the need to accept these moments for what they really were—an opportunity to slow down, imagine those ocean waves and know that they would eventually settle, and I would be left standing.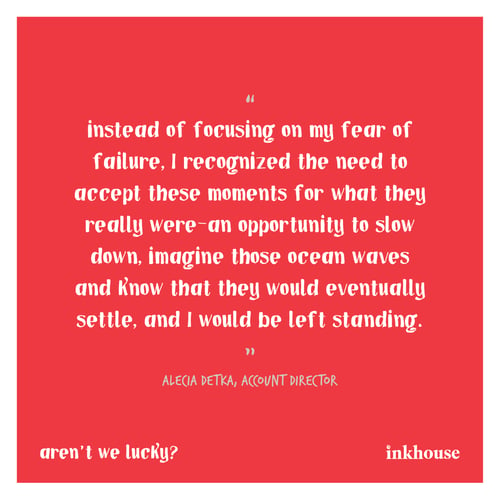 Then came the year 2020, which threatened to take all those lessons away from me. Following my episode in the grocery store, my fiancé promised me that this real fear of a pandemic, which was risking the lives of those I loved, did not mean my mental health was falling apart. I also became aware that during our five-year relationship, he had never had to witness one of my breakdowns. I had grown to recognize the sources of my anxiety very well and had breathed through those moments instead of avoiding them altogether.
In order to survive the year ahead, I dove into these coping mechanisms I had spent years developing. While my fear of failure and the anxiety that drove this distress began to intimidate me once more, I allowed myself to recognize the moments that deserved anxiety and the moments I could control and ultimately enjoy.
I started with a long-lost embroidery kit, stuffed behind other paints and craft supplies that I kept promising myself I would get around to using. Laying out the pieces of thread, I traced templates of flowers and flipped through a guidebook of tips and tricks for beginner stitches. Soon, I became lost in the dips and pulls of my sewing needle. When finished, I would hold up my work like a proud child, elated to show off a piece of art.
I also turned to my stack of cookbooks, forgotten and replaced by more manageable recipes that popped up in my social media feeds. I traded endless scrolling on my phone for a spot on my couch, legs up and a notepad beside me. I took Sunday afternoons to pick and choose which dishes deserved a spot on next week's menu. This also meant taking on new and complicated recipes for Friday dinners. Plates of sticky sheet-pan pork ribs, glazed teriyaki salmon, and bruschetta chicken became my go-to summer dishes.
Months into these embroidery and cooking adventures, I became infatuated with watercolor painting and the unique calm this artistic outlet brought to my day-to-day life. I took an hour each night to blend colors into scenes of sunny beaches and hot-air balloons flying over dense forests. With each brushstroke, I found the simplest form of happiness, only because I was trying something new, not because I was driven to perfect some skill. Through these feelings of peace, I began exercising again and sleeping better, and, in some moments, actually forgot about the anxiety that could ruin such experiences if I did not achieve excellence.
These hobbies, things I could be excited about as the world found its new normal, made time pass in an odd way. It wasn't until another appointment with another doctor, this one virtual, that I could admit that I was thriving. I started taking each moment as it presented itself. I could see how much healthier I was, physically and mentally. And while my anxiety still took up space in my mind, I found that 2020 and the real fears it could cause was not going to destroy my years of mental growth. All it took was a step back and the realization that I was worth more than just my failures.
---
This essay appears in our book, Aren't We Lucky? Stories of Resilience from the Inkhouse Community. Download your copy here.