Finding Pockets of Joy: An Employee Essay From "Aren't We Lucky?"
Early on the morning of August 12, 2019, I watched as a faint blue plus sign appeared on the only pregnancy test I had left in a box beneath my bathroom vanity. I had taken plenty before, but I was finally seeing the result I had been waiting for. I woke up my husband, Jon, to confirm what I saw; tight hugs and a few tears of joy followed in a quick and quiet celebration. I picked up four more tests on my way home from work that day to be positively sure: Come April 2020, we'd be a family of three.
Throughout my pregnancy, I felt a sense of calm and completeness like never before. Despite a bout of morning sickness that lasted well into my second trimester, it all just felt right. Work was great, I started playing tennis, we made some home improvements, and I was still going to monthly dinners with my dearest friends. Then one morning I leaned over my rounded belly to put on my shoes and head out the door to work, when my phone lit up with a Slack notification: "Morning, all. Well, the time has come for us to officially work from home."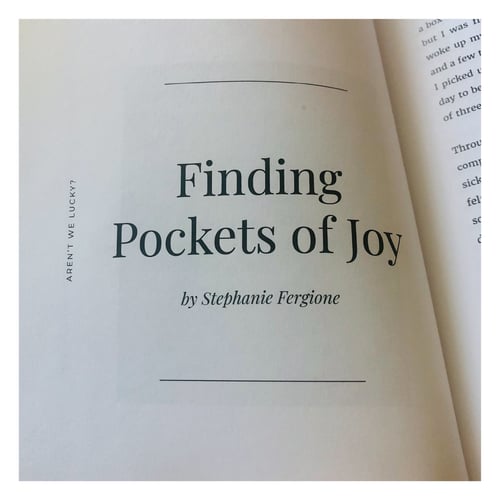 What followed was the type of meltdown that only a thirty-five-weeks-pregnant woman could have. I had built up those final weeks of pregnancy as a kind of send-off for my childless self, to feel fulfilled and put together before the baby arrived and changed everything. But a public health crisis was now confining me to my home, so I canceled my upcoming tennis lesson, haircut, and manicure; sat down at my kitchen table; and opened my laptop to get to work.
As the weeks at home went by, I grew larger and my patience, much shorter. The baby was quite content, curled up on my left side, regularly giving my ribs a strong kick or punch—a reminder that he was just fine where he was. This kid seemed to never stop moving but had no intention of an early—or, for that matter, on-time—arrival.
At forty-one weeks, I was on the way to the hospital, where I'd be induced. On the way, I fine-tuned my labor playlist, a carefully curated set of songs meant to serve two purposes: songs I wanted my child to know and love, full of profound meaning, and songs that I knew every word to and that would keep me distracted as I anticipated laboring and pushing this baby out. Not much had gone according to plan the past few weeks, but I could picture, in just a few hours, in the dim light of the delivery room, the sound of the Avett Brothers crooning in the background as I did one final push and my doctor placed my child gracefully in my arms.
We ended up hearing that playlist about fifteen times through. I was in labor for nearly eighteen hours, and at some point my midwife and nurses brought in an ob-gyn. The baby's heart rate was dropping with every contraction but seemed to recover quickly. I had a choice: try to go on or head to surgery for a cesarean section. I was so tired. I felt a little like I was giving up, but I didn't want to wait or think anymore. It was time to meet the baby and not risk an emergency.
Just minutes after we made that decision, our son, Leo, was in my husband's arms as the doctor was stitching me up. About thirty-six hours later, we were sent home. At the peak of the pandemic in Massachusetts, instead of allowing new mothers a more typical, three- or four-day stay, doctors and nurses were eager to get anyone healthy out of the hospital as soon as possible.
While I had once imagined a revolving door of friends and family coming to meet Baby Leo, those first weeks were quite different. We showed Leo to my mom and a couple of friends through our screen door, but it was just my husband, our baby, and me. Time both dragged on and accelerated; we were living life in two- and three-hour increments, with no care or concern for the actual time of day.
Leo was just as busy when he arrived as he had been in utero. While we were still in the hospital, I would catch him peering over at me from the mobile bassinet. Most nurses remarked how alert he was; as sweet as it was to see his bright eyes, I found myself often begging him just to close them. I'd hear his little grunts and stilted breaths from his bassinet and lift my head slowly to see if he was sleeping, but most of the time he had wriggled his hands free of his swaddle and was wide awake.
Nursing was another challenge. In the early weeks, it just didn't seem to be working, but I couldn't let go of the idea of it. The only human interaction I had besides Jon and Leo was a visiting nurse who came to do weighted feedings, making sure I was giving Leo what he needed.
On her first visit, after weighing Leo on her portable scale on our kitchen table, she sat on our couch to observe us. "Just bring him to you; don't go to him," she counseled. Wasn't that what I was doing? "The football hold will probably be easiest for you," she remarked. Would it, though? I had tried it a hundred times, and it couldn't have felt more awkward.
It all seemed so clinical, this act that I had hoped would feel natural. Not to mention that I was sitting face-to-face in my home with someone I had never met before, in the middle of a pandemic. I wanted to replace the nurse next to me with someone in my circle: my closest friends, who had done this before and could share war stories; my mother, who could give some advice; or my sister, who would mix us a cocktail, crack a joke, and help me shrug it off. Still, I was determined to get this to work. Nursing felt like the last piece of new motherhood that I could control since I got that Slack message a few weeks earlier. Plans for labor and our arrival home had fallen apart—this battle was my last stand of normalcy now.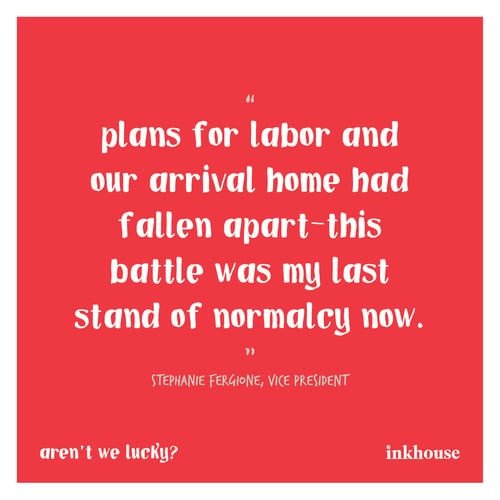 I'd avoid looking at the clock because it meant I was a minute closer to trying repeatedly to get Leo to latch, hearing his hungry cries, and feeling that growing lump in my throat. Overwhelm, stress, frustration, isolation—feelings I had never really encountered at this level—hit me every two hours when it was time to start nursing again. Everything in life before felt more like a team sport—I had always been able to lean on my husband, my siblings, my friends, my team at work. While I still had the support of all of those people, I was now playing a singles match most of the time. It was all on me.
One night, as I sat in my bed to nurse for the last time of the day, I broke out into tears. I was ready to give up. Jon then handed me a board book I had received as a gift before the pandemic, at the last normal event I had attended: my baby shower. The inscription was not to the baby, however—it was to me. "Welcome to motherhood. . . . Some days will be hectic, crazy, and over the top. Others will be quiet and peaceful. Every day is different. Every day is special."
Seeing this note from my mom brought on a sense of ease and calm. Right now, this kind of sucked. But tomorrow it would probably be a little better. All of it is just a phase, and Leo would be small enough to hold—crying or not—for only a very short time.
I slowly emerged from the newborn fog and found my resilience in the smallest moments as I connected with Leo and we grew into our new role as a family. We finally got the hang of nursing, and although it took up much of my time and energy, I loved that time we got to share, just the two of us. When his naps consolidated, I started getting better chunks of sleep and found that going outside for an hour each day was the balm we both needed to survive months of isolation.
Like most things in life, the challenging first weeks of being a new parent just went by, and now I can look back and mostly see the memories in a rosy hue: an early-morning cup of coffee with Leo resting peacefully at my side, the feeling of victory when his cries subsided and I could tiptoe out of his nursery, and the heart-swelling moment when I saw his first smile. These pockets of joy make everything else okay.
---
This essay appears in our book, Aren't We Lucky? Stories of Resilience from the Inkhouse Community. Download your copy here.