Five Lessons You Can Learn From Top Brands Killing It On Instagram
May 18, 2017 admin
Social media can be a powerful tool for building a brand - but it's not always easy to do. Using social media to your business' advantage takes some practice. But there are many brands that are excelling at it, especially on Instagram.
Instagram
has grown into much more than just an app for sharing photos. With more than 600 million users, Instagram has become a powerful platform for brands to visually connect with their fans in innovative and meaningful ways that can translate into brand loyalty and sales. Smart companies are figuring out how to use visual content and influencer marketing as an engine for commerce, and it's working. Here are five key takeaways from some brands that we think are getting it right:
Lesson 1: Build an audience first and a product second
Beauty start-up Glossier began as a digital magazine years before launching their first product. They started a dialogue with consumers, listened and crowdsourced, and put everything they learned and heard from their target audience into their product development. And it's paying off: Glossier has grown into a brand with a loyal following, proving that engaging with and listening to your audience can go a long way. By the time they started selling beauty products, they had a built-in audience clamoring to open up their wallets. They also recognize and prioritize the importance of partnering with authentic and credible influencers, shown by their live Instagram campaign with makeup artists and celebrity influencers during the 2017 Oscars.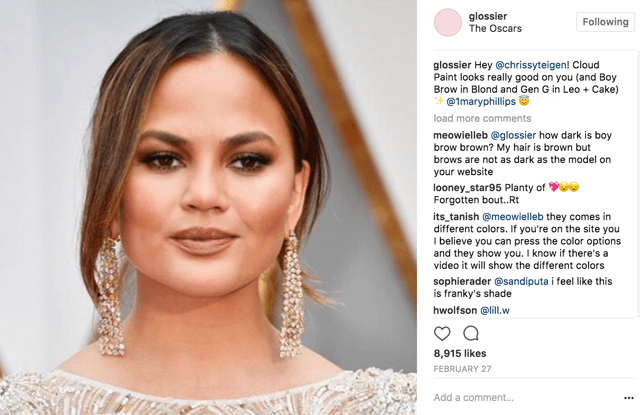 Lesson 2: Think beyond just the sale.
It is important for brands to do more than just ask their fans to buy products. Red Bull is a great example of a brand that doesn't include much product placement in their Instagram shots, instead channeling an exhilarating and daring ethos that takes the company beyond just selling energy drinks. And we're also big fans of WeWork, which provides shared office spaces in cities all over the world, for creating visually compelling Instagram posts that make you, well, want to work there. WeWork's #DogsOfWeWork captures their laid-back culture and invites consumers to engage with their brand on social by using the hashtag to share photos of the dogs in their offices. Thinking beyond the sale can actually generate more sales in the long-run by creating a more authentic connection with your brand.
Lesson 3: Use social media to provide exceptional customer service
Many consumers today use social media as a way of communicating with companies - especially if they're unsatisfied with their purchase or experience - and they expect a swift and detailed response on what the company is doing to fix the situation. Retaining customers - and helping convert them into loyal ones - greatly plays into the strength of your social media customer service (also known as "social care"). Zappos, which is known for their exceptional service, even created a separate social media handle for customer service issues. And they make sure to engage and respond to almost every question or concern that pops up in the comments on their Instagram posts. Moreover, using social media to answer customers' questions or address complaints and issues helps to humanize a business by responding in your brand's tone with tailored posts that show customers they are talking to a real person - not a robot.
Lesson 4: Don't forget to engage with users IRL
While it's true that everyone is online these days, people still want to experience things IRL, which can lead to organic posts on Instagram and other platforms. Casper, the mattress start-up, pulled together an impressive experiential marketing "sleep tour," bringing mattress pods to different cities to let consumers test out their product and even take a nap during their lunch break. They also became the official sleep sponsor of SxSW - outfitting a motel with Casper mattresses, pillows and slippers. Even the pool had inflatable mattress versions floating around for guest to use. The campaign naturally lent itself to be promoted on both Casper's Instagram page, as well as original posts by fans.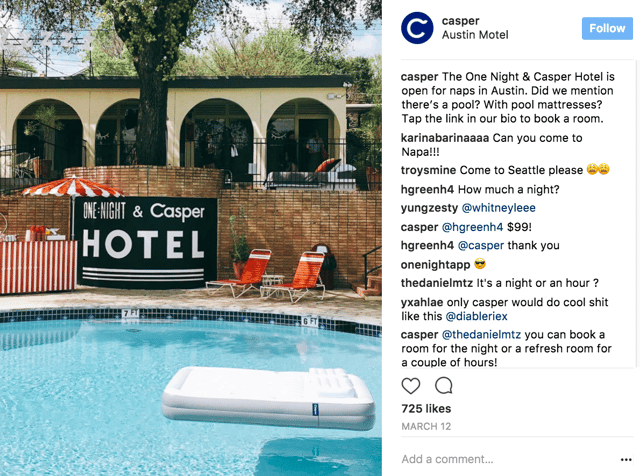 Lesson 5: Breathe new life into an old business
Don't be afraid to be bold, hip and sassy - even if you were established in 1969. While Wendy's is well-known for their brilliant snark and wit on Twitter, the company's Instagram is also a great example of how the right visual content can help change people's perception of a brand. Wendy's has taken to Instagram to incorporate a fresh, modern spin to the fast-food chain to attract a younger millennial audience found on Instagram - and their approach is working.
Of course, no brand should put all of their eggs into just one basket. The best PR strategies start with thinking about who your target audiences are and where they live. If your target audience is not on Instagram, then even the most visually creative and exciting Instagram account is not going to move the needle for you. The best approach is to have an integrated, modern media mix, that gets compelling content in front of your target audiences, converting them into engaged, loyal customers.
Christine Lewis contributed to this post.