Four PR Takeaways from the Code Conference: Internet Trends 2015 Report
Last week at the Code Conference, Mary Meeker issued her annual Internet Trends Report. The report, as always, covered macro trends, which are crucial to understanding the future of almost every industry, and PR is no exception. I've bubbled up the four key insights for PR people from the Internet Trends 2015 report below.
1. Content Discovery is in the User's Control. This is important because it means it's harder to attract attention. Accidental discovery is more rare these days, going the way of browsing bookshelves and magazine stands. Today, content discovery is about setting up the alerts we want, connecting with the people we like and admire and focusing our content through those lenses. To reach audiences, communications professionals must be more authentic, more relevant and more present. See more specifics about our recommendations here from the recent Pew State of the News Media report.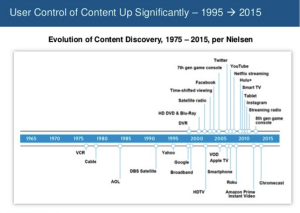 2. Mobile is on the Rise. Everyone knows this. If you want the data, here it is: global Internet usage is up 21% in 2014, but mobile data traffic is up 69% (it was up 81% in 2013, by the way and 70% in 2012, so it seems that we're beginning to reach some level of saturation). What's more? People spent 5.3 hours per day on the Internet in 2014 and 2.6 of those hours were spent on mobile devices. The impact on PR is great. On mobile, consumers generally sit back. They don't actively search for things, but instead, they let them come to them through alerts and their social media feeds. This has ramifications for the ways in which we get our messages to target audiences. We must get into the social stream, and these days, unless we have a breakout viral success, it means that we might have to bring paid social campaigns into the PR mix. As I mentioned last week, the phenomenon of Facebook's Instant Articles has the likes of National Geographic and The New York Times, among others, agreeing to post their content to Facebook first. (Side note: vertical viewing is up because of mobile. It's projected that it will account for 29% of the screen viewing in 2015, which means that PR people must need to consider this format for content too.)
3. User-generated Video Drives Shares. People like to see user-generated video. It brings a personal connection to major events and gives us a more personalized way to share experiences. As Meeker reports, Snapchat saw 40 million viewers over three days for Coachella, and 37 million viewers in 24 hours for New Year's Eve. On Facebook, in Q1 2015 alone, users viewed 4 billion videos each day, which is up four times over the past six months. By the way, 75% of those videos were viewed on mobile devices and 53% of the views came from shares. Remember what I said about getting into your audience's social stream? Oh, and Henry Blodget has a nice presentation that shows how Facebook reaches more people than free TV. It's also worth noting that streaming video apps, like Periscope, are also gaining traction (see our post on that here).
4. Where the Young Folks Are. We keep hearing that Facebook is for parents and Instagram is for kids. This is true, but the young folks have not fled Facebook. They just prefer Instagram, although the trend, as you can see below, is away from Facebook. Social networks are growing up and differentiating. For PR, this is a good thing because it makes reaching your target audience a bit less of an experiment. The art of this equation is in crafting the kinds of messages and content that will appeal to each audience and on each platform. Video is not such a breakout success on LinkedIn, for example, but if you're talking Facebook and Instagram, as we saw above, video must be part of the mix.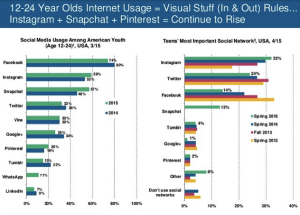 Lots is happening to shape the new PR landscape these days. The only certainty is that more change is on the way and we'll be keeping a close eye on it. To read more of the data cited above go to the following: