Image & Politics: Key PR Takeaways for Businesses
Mar 06, 2012 admin
Whether you're a Democrat or a Republication, primary season teaches us all some lessons in public relations. In honor of Super Tuesday, we'll take a look at how the political image industry is making headlines this week and highlight key takeaways for businesses.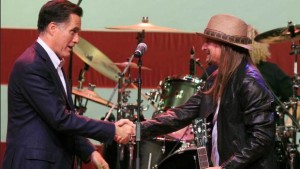 Romney remaking image ahead of Super Tuesday
Mitt Romney's presidential campaign is a case study in branding. The Washington Examiner, complete with a picture of Romney wearing faded blue jeans and an open-necked Oxford shirt, writes this week that Romney is trying to "erase his image as an out-of-touch elitist." Yet his efforts to show his human side ahead of Super Tuesday have painted the opposite picture (i.e. Romney saying he doesn't follow NASCAR but has "some friends who are NASCAR team owners.")
Business takeaway: Always keep your audience in mind when going off-the-cuff. Share only personal stories that can further develop a connection.
The Ann Romney advantage?
Lucky for Romney, he has what the Wall Street Journal has dubbed "The Ann Romney Advantage" in his wife who—until recently—had arguably been the most effective at softening Mitt's image. In an interview Monday, Mrs. Romney was asked about criticism that her husband's wealth can make him seem out of touch with average Americans. The message she intended was quite eloquent yet the sound bite that made headlines was simply, "Ann Romney doesn't consider herself wealthy." Here is Mrs. Romney's full response, as printed in the New York Daily News:
"We can be poor in spirit, and I don't even consider myself wealthy, which is an interesting thing. It can be here today and gone tomorrow." She added: "How I measure riches is by the friends I have and the loved ones I have and the people that I care about in my life, and that's where my values are and that's where my riches are."
Business takeaway: Be prepared for the worst possible questions and practice the answers. Be conscious of what could become a sound bite, because comments are often used out of context. Do take a cue from Ann Romney in being understated and authentic, yet confident in expressing your point of view.
Kid Rock endorses Mitt Romney
Romney's campaign theme song is Kid Rock's "Born Free" and the politician scored a coup by persuading the rock star to perform it live at a Michigan campaign event. According to CBS News, the two met at Kid Rock's Michigan home where they spent an hour discussing topics of shared interest, including commitment to country, Detroit and the troops. Kid Rock wanted assurances that if elected president, Romney (also Michigan native) would help him help the state of Michigan and the city of Detroit.
Business takeaway: Align your brand with endorsers your audience relates to. While Romney seemingly has nothing in common with Kid Rock, somehow their relationship makes Romney's aspirations to help Michigan more credible to voters.
Santorum seeks to repair his image with women
According to CBS News, GOP candidate Rick Santorum is making attempts at repairing his image among women voters who were turned off by some of his recent comments. "Santorum came under fire for talking about his opposition to contraception and calling President Obama a 'snob' for wanting students to obtain higher education." Santorum attempted to placate female voters by devoting several minutes of his Michigan election night speech to portraying the key women in his life (his mother, his wife and his daughter) as "strong, independent trail-blazers."
Business takeaway: Do use personal examples to make yourself more relatable to your audience. Just don't stick your foot in your mouth in the process.
Rush Limbaugh's loses advertisers; image takes a hit
Rush Limbaugh's controversial comments made headlines last week when he called a Georgetown law student, who spoke out in favor of contraception coverage, a "slut" and a "prostitute" on his syndicated radio show. The Huffington Post reports that Limbaugh's advertisers, including AOL and ProFlowers, are pulling out in droves, explaining that his statements do not reflect the values of their companies.
Business takeaway: Be controversial and take a stand on an issue—often it is necessary to rise above the din and root your point of view in authority. But it's never acceptable to launch a personal attack.
A message lost in empty seats
Romney delivered a speech at Ford Field in Detroit outlining his vision of how he would revive the American economy. With 65,000 seats, Ford Field isn't exactly what you'd call an intimate venue (Note: Romney wasn't intending to fill the stadium, nor is that a realistic expectation for this type of campaign event). Clever staging fooled TV viewers, but Romney's campaign didn't anticipate reporters sharing photos over social media, revealing a nearly empty stadium. The photos dwarfed the audience and, ultimately, his message. The New York Times reports that the storyline which emerged after photos leaked was "big speech, tiny crowd." The Times also reports that the Romney campaign had leaked most of the speech's contents to media in advance, which left reporters with plenty of time to focus on the scenery.
Business takeaway: Eliminate distractions during staged events and photo opportunities which have potential to overshadow your message. And always consider how social media could shape the story.