Nine 2020 PR Trends: Seeking Clarity
Clarity is the theme of 2020 at InkHouse. It is an act of consciousness to let a moment of clarity open you up to another point of view. This is important in the PR business because we tell stories for a living. And these moments of clarity are the essence of great stories: they have the power to effect change, big and small.
But these new viewpoints need openings so they can break through. It's tough because PR must navigate a world of clicks that swarm around polarized headlines. The deluge of information today also asks us to dumb ideas down to Instagram stories and 140-character Tweets. Blog posts and articles that used to swell to 1,200 or 2,000 words have been reduced to a recommended 400.
Finding clarity asks us to invent new ways to introduce stories that have depth and complexity. Because audiences -- human beings -- are innately curious, they are willing to venture deeper inside if we create the right doorways. That's our job. Following are the openings we see for telling stories that matter in 2020:
#1: Direct Delivery.
Email newsletters and texts work. They provide one of those doorways to more information if you embed the right links. They break through the clutter of social media feeds and have the added benefit that people choose to receive them. Poynter notes an important mentality shift, "It's about serving audiences, rather than hawking news." Give the people what they want.

#2: Shared Values.
We launched our GoodInk practice a few years ago to reinvent corporate social responsibility (CSR) because customers were increasingly doing business with organizations that share their values. Today, Echo Research's "Populism vs. Capitalism" study found that nearly 60% of U.S. adults say they have, "written to government or companies, signed petitions and taken part in marches or protests." It's higher among those ages 18 to 34. Why does this matter to business? The study also found that while only 20% of respondents trust the government, 74% trust small businesses and think they are a force for good. Shared values are an opportunity for connection.

#3: Chief Communicators Drive Purpose and Culture.
A joint Page Society/APCO study shows that the role of the chief communications officer is expanding. As The Holmes Report wrote, "Chief communicators today also are more likely to oversee corporate purpose than they once were." They are also being asked to foster corporate culture. InkHouse president Jason Morris coined the phrase "culture as a business model" to describe how we operate: what's good for people is good for business. And when it comes to reputation outside the organization, the seeds you plant inside grow outward into the world. Communicators have a role in creating your most important influencers: your people.

#4: All News is Political News.
The Trump presidency has transformed news coverage. We're all familiar with the Twitter presidency, and the accusations of biased headlines. But it goes deeper. Healthcare news, real estate news, financial news, and technology news...they're all political. Jason Morris again, "Those without a view on issues central to the 2020 election could be left out of national discussions. It's an opportunity for security executives to weigh in on cyber defense and election hacking, for education startups to talk about universal pre-K, for healthcare executives to comment on efficiencies in the healthcare system." As I wrote a few years ago for The Boston Globe, businesses are the new battleground states.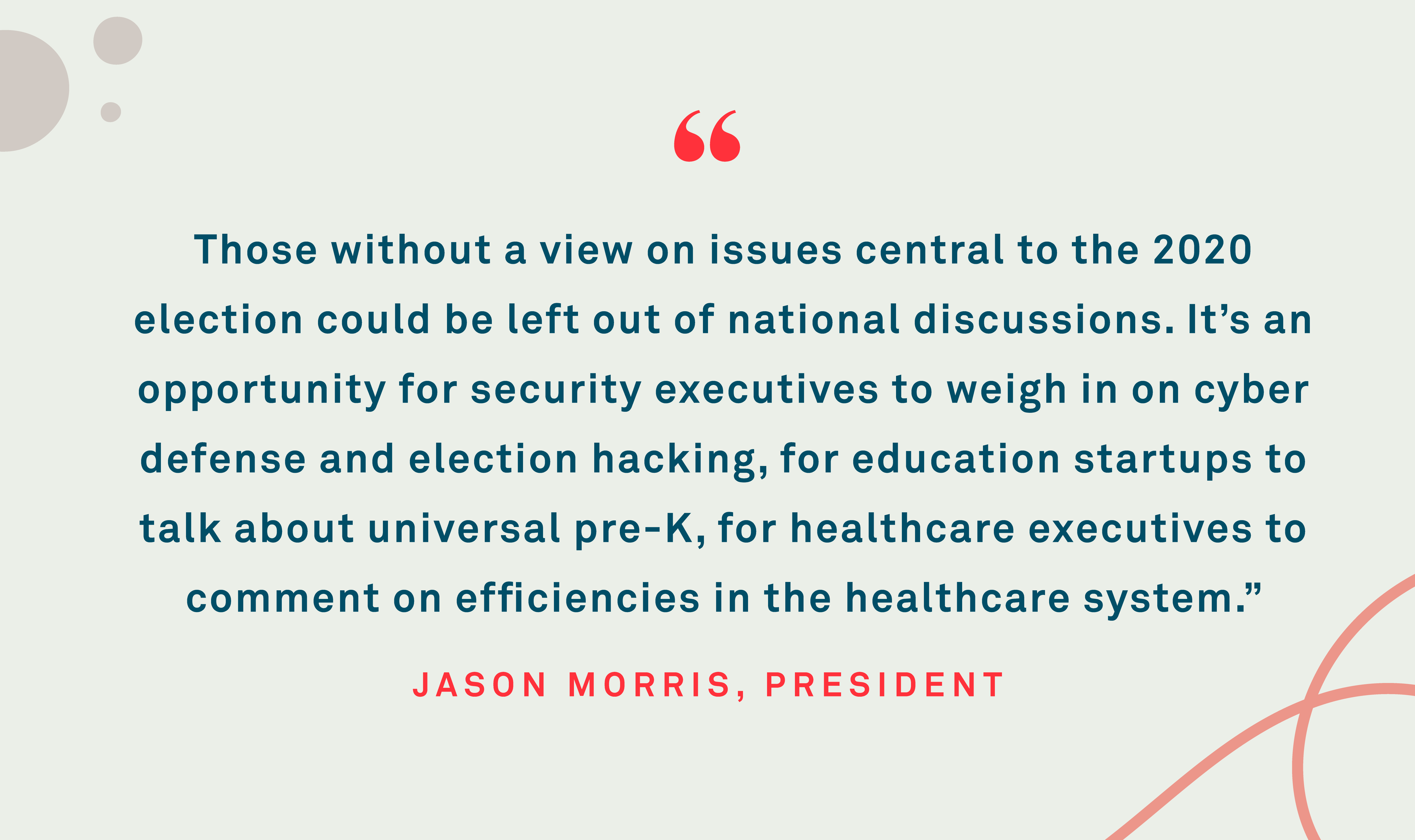 #5: Local News Matters.
InkHouse SVP Samantha McGarry has been reminding us about the importance of local news. Axios wrote, "The death of local news in America is routinely cited as one of the country's biggest threats to democracy." There have been massive cutbacks in local reporting as newspapers struggle across the country. However, on December 2, Report for America (a former InkHouse client), announced that it's on track to place 250 local reporters in 164 newsrooms in 2020. There are others supporting this effort too. Axios noted a commitment of roughly $1 billion by Google, Facebook, Automattic, McClatchy and ProPublica. The PR lesson: local connections build communities.

#6: Trust is Still at Stake.
Aside from the distrust of the media that I mentioned earlier, Nicole Bestard, our New York City general manager, notes that, "More people will be skeptical of Facebook ads, and more platforms will follow Twitter and bow out of political ads altogether, which will lead politics to lean harder on 'earned' editorial outlets and to promote voices and channels that appear to be objective and outside of a paywall. This may cause some media properties to reconsider the paywall and subscription model to combat disinformation, or take up funding drives to ensure the free and open flow of information." Poynter's advice to the media also applies to any content creator looking to foster trust: Answer questions about our content; explain how you decide what to write about; if you get something wrong, own it and explain it; clearly label opinion pieces (this post is one of those); and interact with audiences face-to-face (it's still the most effective way to form a trusted relationship with anyone).

#7: GDPR Comes to the U.S.
Speaking of trust, Angela Trapasso, our vice president of digital marketing, reminds us that "January 1 marks the start of California's Consumer Privacy Act (CCPA), bringing GDPR-like regulation to the U.S. It will cause marketers to pivot in the ways that they use customer data (we'll see a rise of first-party or declared data use). Brands that embrace this with open arms and prioritize the needs of their customers have an opportunity to earn trust."
#8: Unicorn Skepticism.
Senior Vice President Keith Giannini is wary about unicorn promises in the tech community: "WeWork fallout and Lyft/Uber's stock performance, the media will be even more critical of unicorns and all startups. Showing a clear path to profitability will outweigh hyper-growth. And the media will be the frontline 'sniff test' for the next big thing, making it harder to get puff pieces for every company, regardless of size." Substance over bravado tends to win the day, in PR and in life.
#9: Premium Podcasts.
Boston Assistant General Manager Ed Harrison says that "Publishers are looking for new ways to monetize podcasts beyond advertising and are exploring paywalls and soft paywalls -- either with 'exclusive audio' through a paywall (like Slate Plus) -- or through paid services like Sticher Premium or Luminary. It presents a significant opportunity to bring in-depth, long-form storytelling to their existing audiences." Oh, and this might help. In 2020, podcasts will now have their own Pulitzer category: audio reporting.
At InkHouse we'll be leaning heavily on integrated PR strategies, GoodInk, and old-fashioned relationships to create the right doorways to the viewpoints that bring people together. It matters to us as an agency, and to our clients who are building community with their audiences. Now, I'm not a football fan, but I'm open to viewpoints about community building. So as Coach Taylor from the show "Friday Night Lights" said, "Clear eyes, full hearts, can't lose."