Rhetoric – Communications Lessons from the Failures of Political Posturing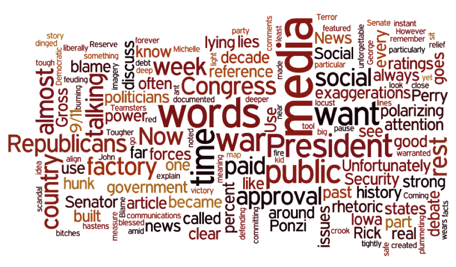 As we gratefully evacuate a decade that was marked more by words that conveyed the unspeakable sadnesses of 9/11 and Katrina than the triumphant victory of Captain Sullenbeger (although we welcomed that blessed pause in the heartache that made us believe in miracles, if only briefly), we emerge divided.
In his article, "Coming Apart," George Packer noted that we entered into 9/11 just after the 2000 election when the news media, for the first time, color-coded the country into blue and red states. The ensuing decade featured rhetoric that has polarized the country.
Polarization is a powerful communications tool for fostering interest. It works almost every time. And an appropriate degree of controversy is critical for breaking through. However, when it goes too far, it does damage that has staying power. Just last week Professor Elizabeth Warren, in her bid to unseat Senator Scott Brown, went viral because of controversial, polarizing and therefore memorable comments that are yet to be judged by the clear rear view of history. But they are certainly getting attention (as of today, she has almost half a million views on YouTube):
"There is nobody in this country who got rich on his own. Nobody. You built a factory out there — good for you. But I want to be clear. You moved your goods to market on the roads the rest of us paid for. You hired workers the rest of us paid to educate. You were safe in your factory because of police forces and fire forces that the rest of us paid for… Now look, you built a factory and it turned into something terrific, or a great idea — God bless. Keep a big hunk of it. But part of the underlying social contract is you take a hunk of that and pay forward for the next kid who comes along."
The foibles, squabbles, dogmatic battles and personal shortcomings of politicians provide some instructive examples of tactics to avoid when committing words to the public record. Consider these lessons from recent history (and the unforgettable past) about what not do:
In the end, we must all remember that words have the ability to convince and repel, and regardless of the outcome, they are etched in the public consciousness more deeply for being written…particularly when they are reported in the media and documented by Google.