The Inkhouse Community Celebrates Hispanic Heritage Month
Whenever our community thinks about celebrating different moments in time, we begin by digging into what they mean. As a community, it's important for us to learn nuances so we can better understand our coworkers. And as communicators, this is also critical to our jobs. How can we reach audiences if we don't know where they're coming from and how they experience the world?
What is Hispanic and Latino/a/x heritage?
What started in 1968 as National Hispanic Heritage Week is now Hispanic Heritage Month, taking place from September 15 through October 15. The first day marks an important historical date for many Central American countries: the anniversary of their independence from Spain in 1821. Other Hispanic countries celebrate their independence on different dates in September.
The month-long heritage month happens to overlap with Columbus Day. Although Columbus Day is a federal holiday, a number of states (and companies, including Inkhouse) have decided to observe Indigenous Peoples' Day in its place. Similarly, many Hispanic countries and individuals observe the holiday as "Día de la Raza" to commemorate the mestizo or mixed indigenous and European heritage of many people living in Latin America.
To understand Hispanic/Latino/a/x heritage, it's first important to know which countries and individuals fall under this category. There are 20 Hispanic, or Spanish-speaking countries, and one territory: Argentina, Bolivia, Chile, Colombia, Costa Rica, Cuba, Dominican Republic, Ecuador, El Salvador, Guatemala, Honduras, Mexico, Nicaragua, Panama, Paraguay, Peru, Puerto Rico, Spain, Uruguay and Venezuela.
Hispanic heritage refers to someone who speaks the Spanish language. Hispanics are people from or with ancestors from Spain, Mexico, Central America and South America. Brazilians are not considered Hispanic, however, because they speak Portuguese.
Latino/a/x heritage refers to people from or with origins in Latin America. Latinos are from or have ancestors from Latin America which includes Mexico, Central America and South America.
Because Spanish is the primary language in many Latin American countries, there is crossover between this term and Hispanic, but these terms have some key differences.
Language matters
You might have noticed that some sources use Hispanic and Latino/a/x interchangeably to describe people with Spanish or Latin American roots. However, even though there is overlap with these terms, there are distinctions between each of the terms and they should not be used synonymously. Some people in the community prefer to use different terms altogether to describe their heritage (or none at all). What people choose to call themselves is meaningful. It's important to realize that this is a community rich in history and culture, and the choice on how to identify is more than a definition – it's a combination of heritage, origin, country and culture.
Check out this resource to learn more. Bottom line: a wider variety of language should be used to highlight the diversity of these communities and cultures.
Not sure which one to use? In my work, I have found it is best to ask questions. It is okay to ask someone how they identify; it is not okay to assume even when we do have "definitions!"
For us at Inkhouse, we're focused on learning more about each other's cultures to ultimately break down barriers and misunderstandings. We are hopeful that it will bring us together as a community. So this year for National Hispanic Heritage Month, we asked our colleagues how they celebrate, and identify, with their heritage. Check it out: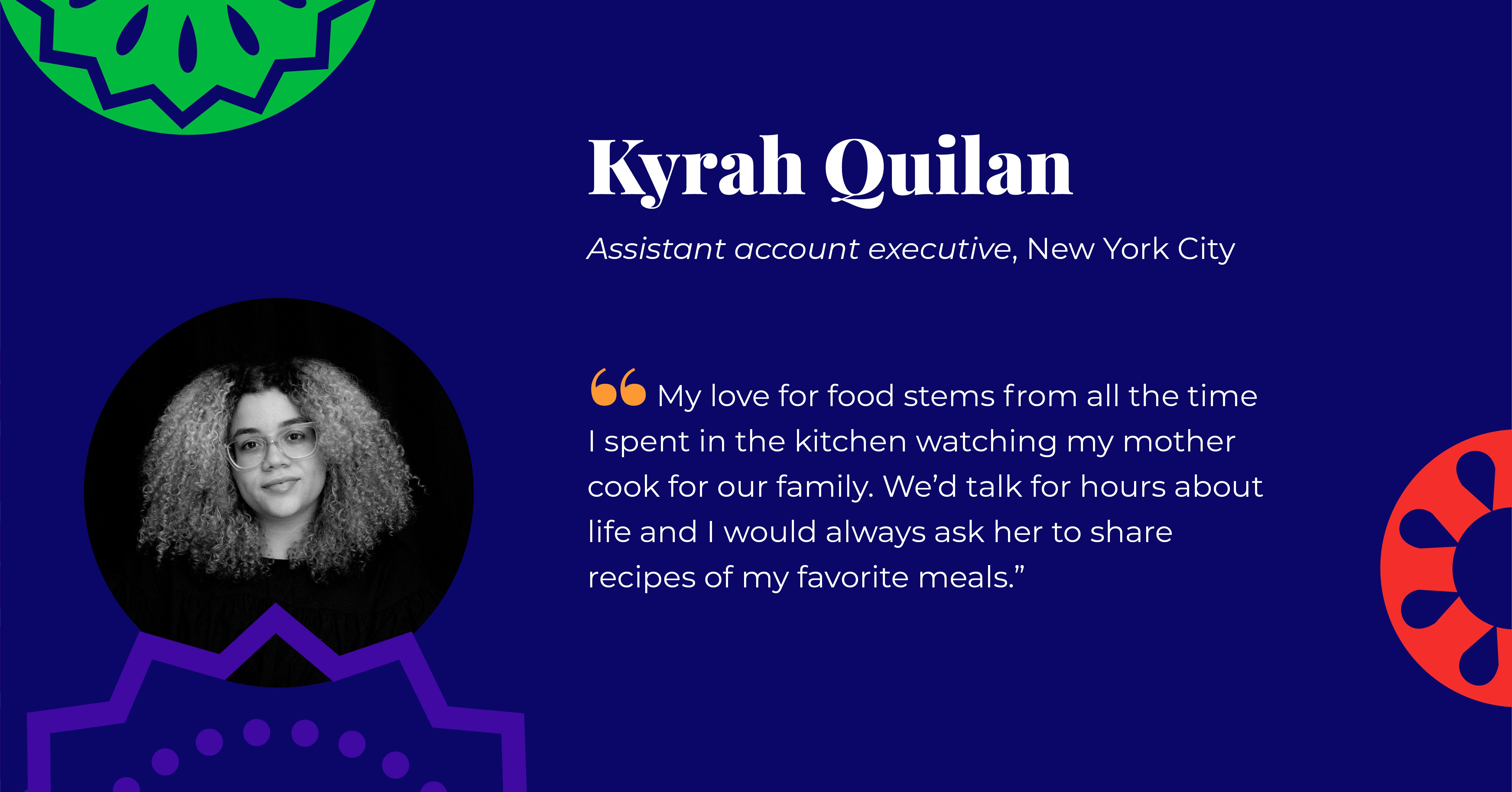 Kyrah Quilan (she/her/hers)
Assistant Account Executive, New York City, NY
I'm Kyrah! I am lucky to say that I was born and raised here in New York City and appreciate the chaos and energy that comes with this city.
My mom came to the U.S. from Puerto Rico in the '80s. She then met my dad, started a family and the rest is history. From a young age, I was taught the importance of speaking Spanish, visiting the island and appreciating my culture.
Something that I will always be proud of is the cultural blend that makes up Puerto Rican people: the interweaving of the Taíno, African and Spanish traditions. Without this mix, we wouldn't have the unique individuals who come in every shape, size and color.
Although Puerto Rico is a commonwealth to the United States, the people are so passionate to be from a country that is so small, yet mighty; vibrant and cultured. This outlook shapes the experience, especially for me, as someone who wasn't even born there!
Kyrah's favorite aspect of her Latina culture: food
My love for food stems from all the time I spent in the kitchen watching my mother cook for our family. We'd talk for hours about life and I would always ask her to share recipes of my favorite meals. To this day, she expresses the importance of visual learning. She picked up her basic cooking skills by watching her own mother and this cycle goes back as far as you can imagine.
Experiences like this, among others, play an important role in Hispanic culture. While you might not find an exact list of ingredients, you will always feel the love poured into every dish. This is what truly brings it to life!
---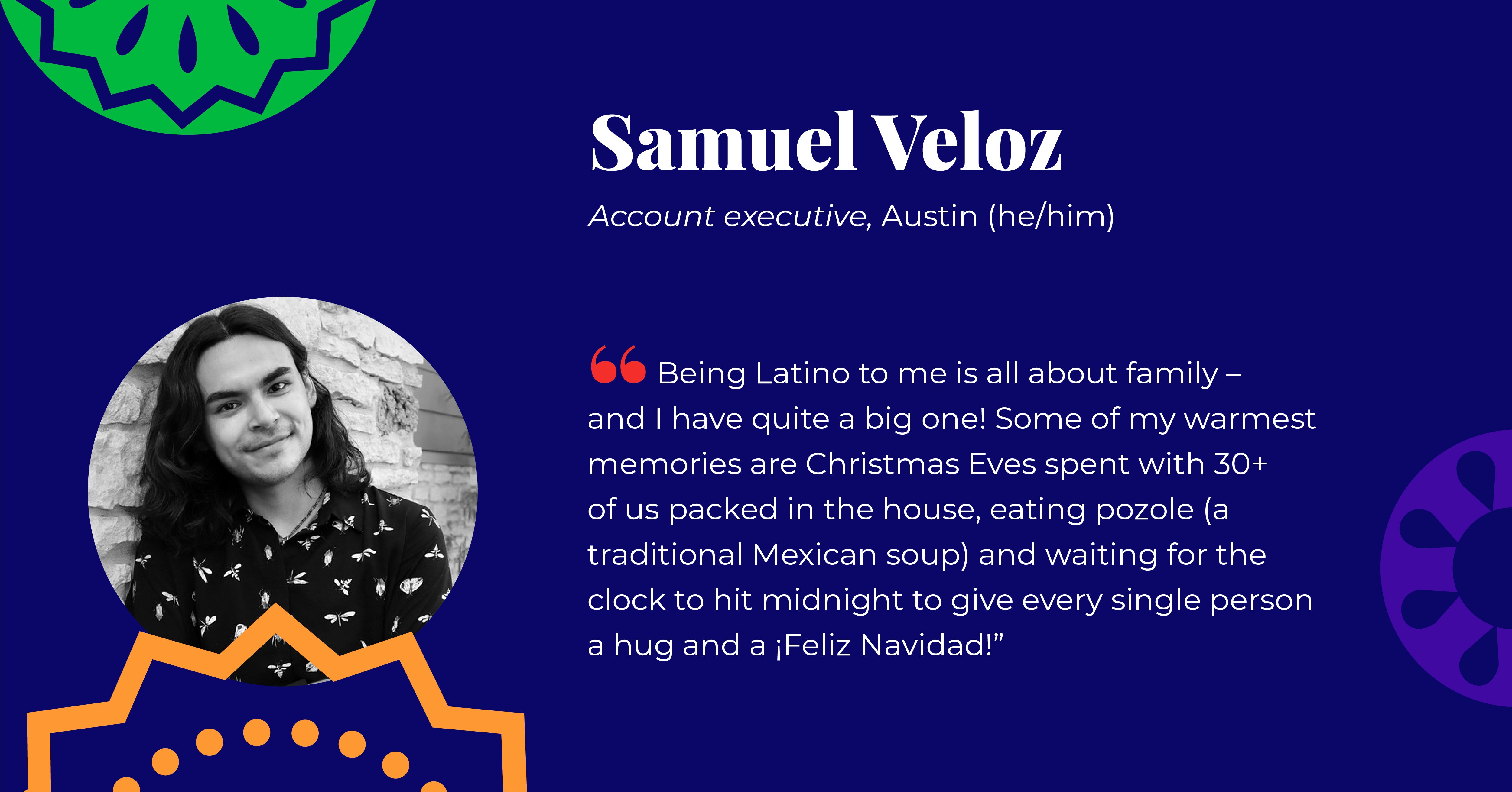 Samuel Veloz
Account Executive, Austin, TX
Hi all! I'm Samuel Veloz and I'm a first-generation Mexican-American born and raised in Houston, TX.
Samuel's favorite aspect of his Latino culture: family
Being Latino to me is all about family – and I have quite a big one! Some of my warmest memories are Christmas Eves spent with 30+ of us packed in the house, eating pozole (a traditional Mexican soup) and waiting for the clock to hit midnight to give every single person a hug and a ¡Feliz Navidad! Or, the many quinceañeras I've been to because, according to my parents, our family is somehow related to the birthday girl. Or finally, the danger my cousins and I would happily put ourselves in as soon as the first candies dropped out of the piñata – rushing in and dodging swings to get to the good stuff first.
My parents, aunts and uncles have sacrificed a lot for us to have access to better opportunities than they did, and it shows in just how much love and joy is woven into our close-knit family. I'd do absolutely anything for my family, and I know they would do the same for me.
---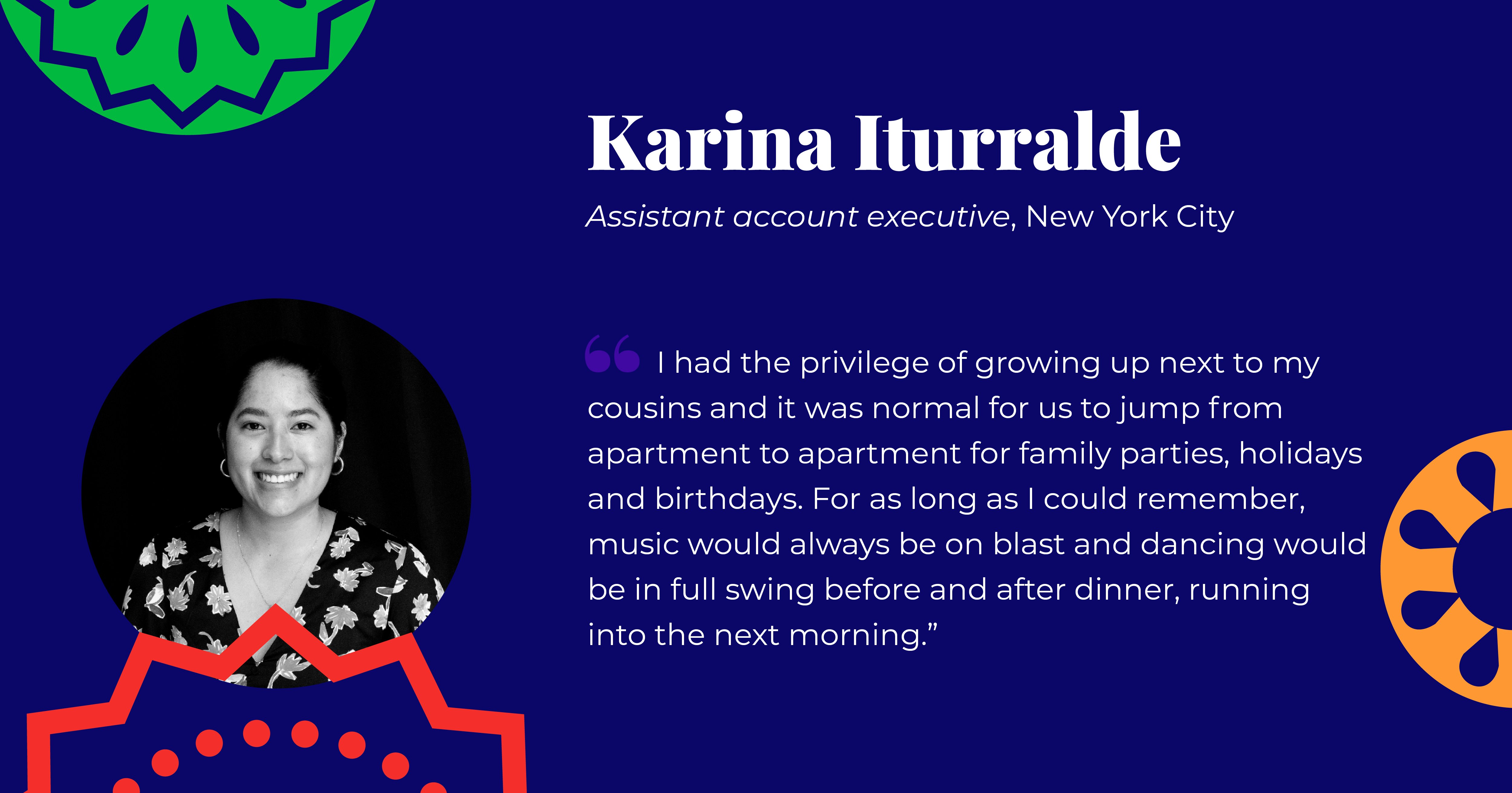 Karina Iturralde
Assistant Account Executive, New York City, NY
Hi everyone. I'm Karina and I was born and raised in Queens, NY.
Karina's favorite aspect of her Latina culture: music
Growing up in Queens was the best because there was always an awesome blend of different cultures. I'd always hear neighbors playing their favorite songs and having get-togethers at all hours of the day during the summertime. Lucky for me, I had the privilege of growing up next to my cousins and it was normal for us to jump from apartment to apartment for family parties, holidays and birthdays (which equated to spending a LOT of time together). For as long as I could remember, music would always be on blast and dancing would be in full swing before and after dinner, running into the next morning. The night would start off with the biggest hits of the generation of my parents, aunts and uncles, with artists like Julio Jaramillo, Juan Gabriel, Gilberto Santa Rosa, Julio Iglesias, Celia Cruz and more. As the night progressed, my aunt would always say that "los jovenes" (the young people) would take over to play our favorite artists including Wisin y Yandel, Monchy & Alexandra, Daddy Yankee, Romeo Santos/Aventura, Selena Quintanilla and of course, Bad Bunny (with disappointed glares from our family, sorry not sorry).
Listening to Spanish music is an experience in itself and has allowed me to connect with the language, my roots and my family. Music has and always will be a huge part of family gatherings and truly is a bonding experience for all generations involved.
Hispanic Heritage Month is the opportune time to celebrate Hispanic and Latino/a/x history, cultures, ancestral roots, notable figures, contributions to society and so much more. Learn more by reading and sharing information and stories this month and throughout the year!