Facts Education Brands Need to Know About Teacher Influencers
The days are long gone where celebrities and big brands are the only entities able to attract big followers and exact influence on social media channels. Influencer marketing has become a powerful and pricey marketing tactic for brands to engage directly with influencers who are paid to do a post about a product (or anything, really) that will elevate awareness and - hopefully sales - for a brand. Today, influencers exist across almost every vertical you can think of including home decor, cooking, sports - and, most recently, teaching.
The rise of the teacher influencer is hard to miss - especially since teachers have also figured prominently in the news in recent years: whether about the widespread teacher strikes, teachers' salaries or just the struggle of what it's like to be a teacher in America. Unlike other influencers pushing products for cash, the majority of teacher influencers are online to serve as a crucial resource for other educators by posting their creative classroom lessons and materials, while also looking to gain ideas and tips from other teachers.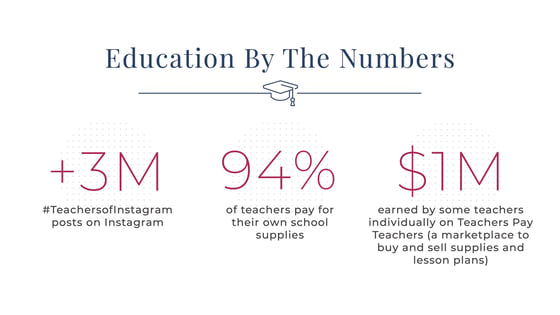 Here are three things brands should know about teacher influencers:
#1: Teachers are all about collaboration and resource sharing
On top of traditional social media platforms like Instagram and Pinterest, where teachers can share classroom tips and inspiration, marketplaces, where teachers can actually purchase supplies, have also emerged. Teachers Pay Teachers is an online marketplace where teachers can buy and sell anything from lesson plans to classroom materials. TPT helps teachers not only make additional money, but also serves as an important channel to access affordable supplies. With reports that 94% of teachers pay for their own supplies, being able to sort and purchase affordable materials and resources is crucial. Heidi Rose, @zerowasteclassroom on Instagram with over 7,000 followers, who has been a teacher for eight years told InkHouse via email, "I joined TPT (as a buyer) almost immediately when I started my career, and have used it consistently since then to make all my curriculum more engaging, challenging, or fun. I love that TPT gives teachers more independence from what might be dry, boring, not responsive curriculum."


Kayla Osbron, @thewonderfulclassroomofoz with about 8,300 followers, who is just finishing up her second year teaching 5th grade, said via email, "I have always had a passion and eye for graphic design. I started making my own worksheets and activities for my classroom and people on Instagram began asking where I got it. That is when I realized that others wanted to do what I did, too! So, the Instagram came first, and then the TPT store." But what she likes most about TPT is that she can help other teachers improve. She said, "I cannot tell you how many times I am on TPT as a consumer, not a seller. Other teachers are the best inspiration, so I will happily pay to add new and exciting activities to my classroom. As a teacher, time is valuable. Why reinvent the wheel when you can easily access quality materials?"

Nicole Marte, @marteinthemiddle with more than 26,100 followers, a second year 6th grade science teacher, doesn't have a TPT account but through the Instagram community has gotten activities, labs, and classroom management techniques from the community. She said via email that she loves that Instagram allows her to collaborate with teachers around the world and the goal of her page is to discover best practices for her students, share her experiences, and inspire other teachers.
#2: They create platforms based on their beliefs
Similar to other groups of influencers, teachers often have a theme or cause that serves as their platform. Heidi's blog, Zero Waste Classroom, is dedicated to helping create zero waste in schools. "After several years of integrating [zero waste] into my personal life, I wanted to apply the same principles to my classroom, but where I had found so many resources for personal changes, I found almost none for doing this on a large scale with children. I started my Instagram @zerowasteclassroom/Facebook/blog with the goal of making these types of changes easier for other teachers to integrate as well." Heidi noticed that the teacher community on Instagram is incredibly powerful and passionate, but not many are talking about sustainability the same way people are talking about social justice. Heidi's goal is to bring the two worlds together, educating children on the climate crisis and helping make a difference along the way.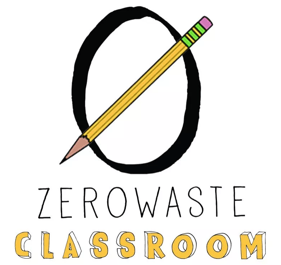 Other teacher influencers have amassed huge platforms with close to or even more than 100,000 followers. Jill at @hello_fifth is a 5th grade teacher with over 84,000 followers, 5,300 followers on her Teachers Pay Teachers shop, and a blog. Michelle Griffo, @applesandabcs is a teacher influencer with 123,000 followers and a YouTube channel with more than a thousand subscribers where she shares tips for teachers.
#3: They want to work with brands with similar beliefs and messages
While working with brands can bring additional income, it's important to teacher influencers that they are sharing resources that are not only on brand with their beliefs, but that would be truly helpful for fellow educators, and their students. Heidi was able to work with Twinkl on this post Creating a "Zero Waste" Classroom: A Teacher's Guide to Reducing Waste and she created a short Instagram video post with WeAreTeachers on tips for having a zero waste classroom. "I would love to work with a publishing company willing to create a book around the subject of sustainability in schools and the growing need for teachers to be educated and educating about the climate crisis," she wrote. For Heidi, it's more important to work with companies that are education-focused, rather than product focused. Nicole Marte was paid by Home Depot to do a blog post and Instagram post about Home Depot's Maker Corner, which was in partnership with Discovery Education, that provides hands-on activities. She chose an activity that aligned with her science lesson plans about conservation and the importance of conserving our natural resources. She was able to supply her students with the materials needed to complete the task of designing and creating a tool that could fish trash out of local rivers.

When looking to work with teacher influencers, remember that the majority of this community is highly mission-driven. Unlike other influencer communities, teachers themselves aren't usually the focus or seen snapping a selfie to promote their latest skincare routine. Rather, teachers focus on how they can make other teachers' lives and experiences better and easier in the classroom for the benefit of their students.