WebInno30 - Preview/Postview
Jun 13, 2011 admin
Last night's WebInno30 was great. I've updated yesterday's preview with a postview based on conversations with several of the companies I spoke to at the event. All the updates are in italics below.
First, I have to say there was one company I missed in my preview - TourSphere - that I totally missed in my preview. That was too bad because they were the coolest company at the event. Basically, what they do is allow organizations (and individuals I suppose) to create really great tours that play on mobile devices. If clients have content of their own they can build the tours themselves, if not, TourSpheres can do all of the production.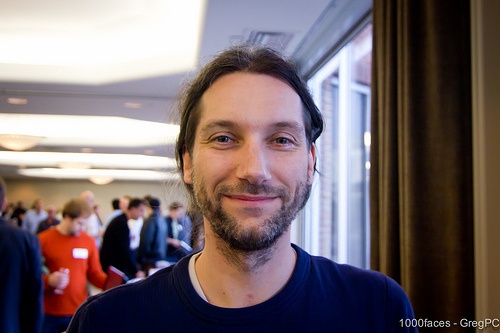 Andreas Randow of TourSphere
Having worked at Alcatraz, I've really been interested in tours. The audio tour there was really good and visitors loved it - what TourSpheres is doing is lightyears ahead. Some of the content they showed me last night was just awesome. What impressed me the most is the fact that they imaged, created and have attracted a lot of great organizations as customers in just about a year.
We are t-minus three hours from WebInno30 and it's going to be great. Look outside – the sun seems to be coming out. That's good, right? Yeah, yeah, I know game six is tonight and that's what you were planning on doing but come on, check out WebInno for a while – there are plenty of bars around Kendall Square to watch the game after . . .
With so little time before the start of the event I should cut to the chase. Here's my take on the companies that will be showing their stuff tonight.
Main Dishes
Lockify – "Take Control of Your Private Communications" – I signed up last week but haven't heard anything yet. That makes it hard for me to say very much. We keep seeing reasons why one might want to keep one's communication private and anything that will keep body parts out of the news is something I'm all for. I'm keeping my fingers crossed that what these fellows have to show is easy and foolproof.
Lockify was cooler than I imagined it would be. They're key targets today are lawyers and folks in the financial services industry. They really do have a nice slick product here. I was impressed.
Pintley – "The Best Way to Discover Beer You'll Love" – Let me start by saying three words: I LOVE BEER. I don't mean I like it, I mean I am in love with beer. That doesn't mean I love beer indiscriminately – there are a lot of beers I just don't drink. Light beer? Nope. Really flavorless American lagers? Nah. Zero carb beers? You can have them. I love good beers. I like drinking them and I like making them (haven't brewed in a while though – need to get back on that).
I've tried several beer finding apps – untapped and RedPint come to mind – but what I dig about Pintley is that they start you off with the opportunity to rate different beers. This is a good idea. I try to remember to pull out my phone when I sit down at the bar but more often than not I just forget and start fiddling with the app after the fact. That's cool I guess but I really liked the fact that Pintley tried to engage me right off the bat. I say tried because when I attempted to connect the app with Facebook I got a blank screen with little tiny letters saying "not found." I'm going to chalk it up to growing pains and still give these guys a big thumbs up.
These guys are trying to help find beers you'll like based on the beers you already like. Given the sheer number of craft beers in America (more than 50,000 beers from more than 1,700 brewers) - and the fact that many are regional and/or seasonal - finding a beer is no easy task. The New York Times referred to Pintley as the "Pandora of beers" and that seems a pretty apt description.
One of the things I hadn't understood during my quick look before the event was the whole point/reward system. Basically this functions as a WOM platform for craft brewers. When people find a beer they like they're encouraged to share it via Foursquare/Facebook/Twitter. Sharing gets you points and points get you prizes - a year of free beer in some cases and you can't argue with that. Their also working to create "quests" and "activities" with bars and brewers to reward people for visiting and checking in.
Maybe it's not rocket science but a solid idea really well executed.
Smarterer – "Show What You Know by Taking Tests and Sharing Your Skills" – Who doesn't like taking online tests and quizzes? I know I sure do! And if taking them will make me feel smarter I'm all for it. (In fact, I often go and find really easy tests just to feel smart. Don't tell me you don't . . .) Smarterer lets you take (and create) tests on all kinds of topics. I tried the Foursquare test and got all the answers right (made me feel wicked smart). The only thing that makes me anxious is the time bar that goes flying to the left, making me feel dumber and dumber. I wish it were slower.
I thought I'd try to create a test and thought I'd do Flickr, one of my favorite sites. It turns out someone had already made that test. Makes sense. Next it asked me if I wanted to add questions. Up popped a screen that allowed me to create a question and provide one correct and up to four incorrect answers. Unfortunately, it didn't show me the existing ones so it was kind of hard to be sure I'd come up with original ones.
The site is fun but I don't really get the point. Maybe it's just to have fun posting and taking tests but I have to think there's something more going on. Perhaps tonight all will be revealed . . .
So more was revealed. They claim to be able to assess anyone's skills in 10 questions in 60 seconds. People can take tests, make tests and share their results. You can see how you do compared with friends. The scoring system is a real-time contest between users and the questions. The more people that create and answer questions, the smarter the system becomes. As with other social platforms, there are badges that can be shared. Their hope is to have these badges become recognized as an indication of skill level. They're working on APIs that will allow the badges to be embedded in online resumes so people can share their skills with potential employers.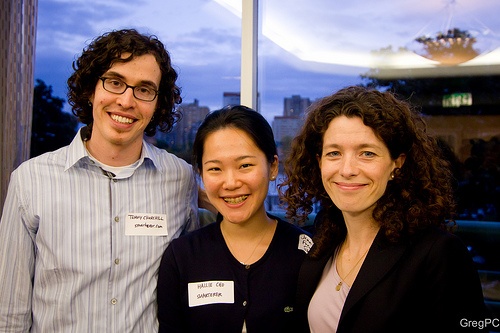 The Smarterer team.
Companies are starting to contact Smarterer to see if they can use the tests to evaluate candidates and current employees. This is where Smarterer expects to make their money and it makes sense to me. They were cool and were the Audience Choice at the event last night.
Side Dishes:
Apptegic – "It's 3 PM. Do you know what your customers are doing?" – I don't have any apps so I can't really say how important this is – I can imagine though that having the ability to know how and when an app is being used could be a good thing. The site tries to explain it with some stick figure graphics. They were so distractingly amateurish though that I couldn't really concentrate on the messages. I will stop by the table and see if I can get a grown-up demo.
I didn't make it over to their table so have no additional details to add.
Fantourage – "Get Rewarded for Fandom" – It seems like every few WebInnos there's a site like this and every time there is I think and say the same thing. I hate celebrities and fandom in general. Maybe it comes from being a guy in my 40s. Of course I might not ever be able to tell with Fantourage since I've been trying to connect it to my Facebook account for several minutes now with no results. Oh well. I guess it's not a fan of me. :-(
Same here. Totally didn't make it over.
Games for Language – "Learn Languages the Fun Way!" – I like languages. I never found a way to learn them that was fun though (aside from having friends teach me dirty words of course). This seems fun though. I tried the French version for a little while and it was pretty cool. The goal is to spend 15 minutes a day with the app. I can't say that I'll stick with it but you should check it out.
Wow, now I'm starting to feel bad . . .
Goshido – "Focus on Doing the Work that Matters" – The work that matters? Doesn't it all matter? Why else do I run around like a headless chicken? The video was helpful in understanding the product and its benefits. Mostly it seems like it's an email management system. You know what's really lame? I didn't get to watch the whole video. You want to know why? I was distracted by work. How lame is that?
Again, didn't make it.
The Happy Cloud – "How Long are You Willing to Wait for Your Games?" – Well I signed up and guess I'll have to wait to actually see about the site itself. I have managed to check out streaming games in the past. Steam does a great job and I'm really happy to download games from Xbox Live. Without seeing the service I'm kind of at a loss. Again, I'll need to check it out.
Nope.
Zaarly – "What you want, when you want it" – OMG. This is a first. This is the first time I've come across a company that was going to be at WebInno that I've run across in real life. Too bad I don't remember where though. I tried the app but there were only three listings around me – a rental car, a web developer and concrete work. I'll be honest, those aren't things I'm in the market for.
I am terrible.
CLOVRMedia – "Welcome to Loyalty 2.0" – These guys are linking credit cards with special offers delivered through digital advertising. To me this is very, very cool. A year ago I might not have thought so but having worked with a number of clients in the digital ad space I have a new appreciation for how cool/important all of this stuff is. I am going to be making a beeline for this table.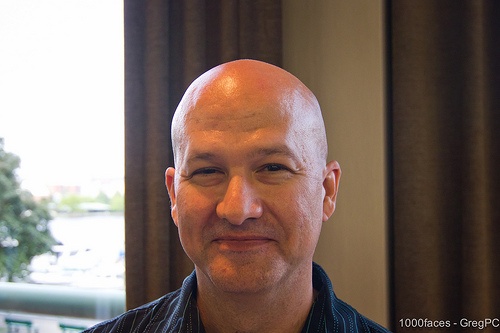 Chip Correra of CLOVR.
I did check this out! It is cool but they are not doing as good a job as they could to explain what they're doing and just how it works. Basically they're creating campaigns (w/ advertisers) that allow promotions to be attached to credit cards. I wish I had gotten a better sense of where they are at but they're clearly an engineering-driven company and that came across.
Well, there you have it, tonight's lineup. I'm going to head over there soon to check it out and I'll post my post-view tomorrow to see how right or wrong I was about the companies. Let me know what you all think. Was I on base? Off base? Only time will tell . . .
You can see my photos from WebInno here.