3 Lessons Boston Sports Have Taught Me About PR
Jun 28, 2012 admin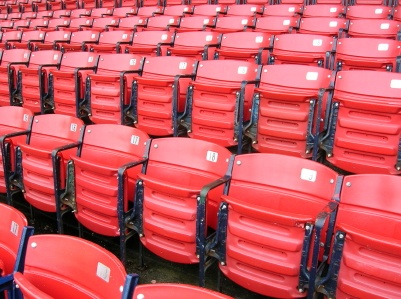 I once read that being a Boston sports fan is like having a cheerful kind of dyspepsia; that, or a raging substance abuse problem. Most likely, it's some combination of the two.
Within each momentous victory, heart-breaking defeat, and stranger-than-fiction Boston sports moment (Theo escaping Fenway Park in a gorilla suit, anyone?) lies some nugget of wisdom for those who seek to unearth it. With a little imagination, it is possible to apply many of these lessons to the world of PR.
The following are three things my lifetime as an embattled Bostonian has taught me about communicating effectively.
1. Authenticity is everything. If you're not passionate about what you do, you'll get eaten alive. Josh Beckett is the most hated athlete in Boston. Why? Because he would rather play a round of golf than rest up to make his next pitching start. His lackluster effort suggests that he views baseball solely as a job and not as a passion. If you're not getting wins, that's one thing, but if you don't care that you're not getting wins, that's another. This translates to PR because if you're not genuinely excited about what you're communicating, how can you expect anyone else to be? It's essential to generate sincere enthusiasm surrounding your message, because the instant you start running through the motions, just jogging to first base, people will take notice.
2. Know what you're talking about. On June 6, when asked about the Celtics' performance in the Eastern Conference Finals, Mayor Menino infamously told reporters, "KJ is great but Hondo is really the inspiration. Hondo drives that team." He was, of course, referring to Kevin Garnett ("KG") and Rajon Rondo. Although speaking blunders are characteristic of Menino, the fact that he was unable to correctly identify the two best players on one of Boston's most beloved teams was a new low. Communications professionals are constantly on the spot. It's the nature of the job. Although we do our due diligence to always be prepared for anything, occasionally a question may catch us off guard. In such instances, it is better to be humble and admit that we need to look into something rather than to conjecture and look ignorant. Avoid your KJ and Hondo moment at all costs.
3. Understand the dream. I think I speak for Red Sox Nation when I say that there are two kinds of people who can't be trusted: Yankees fans and those who eat salad without dressing. (What's that? The latter is just something that I need to work through on my own?). Anyway, ask any Bostonian about their most cherished sports moment and it will likely involve a world championship, beating the Yankees, or—best case scenario—beating the Yankees to go on and win a world championship. The Sox could win fifteen consecutive games, but if they are swept by the Yankees, those previous victories become meaningless. The same goes for PR. If your client has been hinting that they would love to land coverage in a specific publication, do not then be surprised if they fail to match your enthusiasm about being featured everywhere else. You can secure dozens of tier two outlets, but if they don't directly reach your client's audience, you need to be understanding of why the client might ultimately view your success as incomplete.
Whether you love Boston sports fans or hate them, you can't deny that they are passionate communicators—just ask any Yankees fan who has endured the spirited dialogue of the centerfield bleacher crowd at Fenway Park.