7 Steps to Encourage Employee Amplification
May 21, 2019 admin
When great media stories land and company initiatives launch, social media amplification can punch up the business results. But there's a core audience of incredibly important micro influencers that many companies overlook when it comes to marketing efforts -- their own team members!
From selfies at work events to tweets about funny statements overheard in the office, your people are telling their people about your business. So, what do you want them to say? Answer with care and creativity, because it matters -- a lot.
In fact, a recent report about including employee advocacy in marketing and communications programs found tremendous results. About four out of five organizations increased their online visibility after implementing a formal employee advocacy program, and 65 percent of those companies reported an increase in brand recognition. Social media engagement for employee-shared content is eight times more than when a company originally posts.
In addition to increasing brand awareness, employees can drive sales and support recruiting efforts. When a lead comes from an employee, it is seven times more likely to convert into a sale. And job applicants from employee referrals get hired far more often than other channels.
The results are great on their own, but they're downright amazing when you consider the ROI. An employee advocacy program costs just 10 percent of paid advertising -- a dime for every ad dollar. So how can you get started turning your employees into brand ambassadors?
1. Build Your Foundation in Employee Satisfaction
It's important to note that company culture plays a big part in the likelihood of success for creating employee advocates. Unhappy team members are less likely to share happy company news. In fact, dissatisfied employees can do damage to a brand if their social content swings negative. Efforts to improve employee satisfaction (like a paint night or yoga session) can be budgeted as part of an employee advocacy program -- not just a line item for HR.
2. Clearly Communicate Your Vision and Values
Getting every single employee to understand the meaning of your brand's existence -- and what you stand for in the world -- establishes the core message of your company. When everyone can articulate the "what and who we are" they're more likely to share that in their conversations and their social channels. At InkHouse, we talk about our values every day. In fact, they're posted on our wall!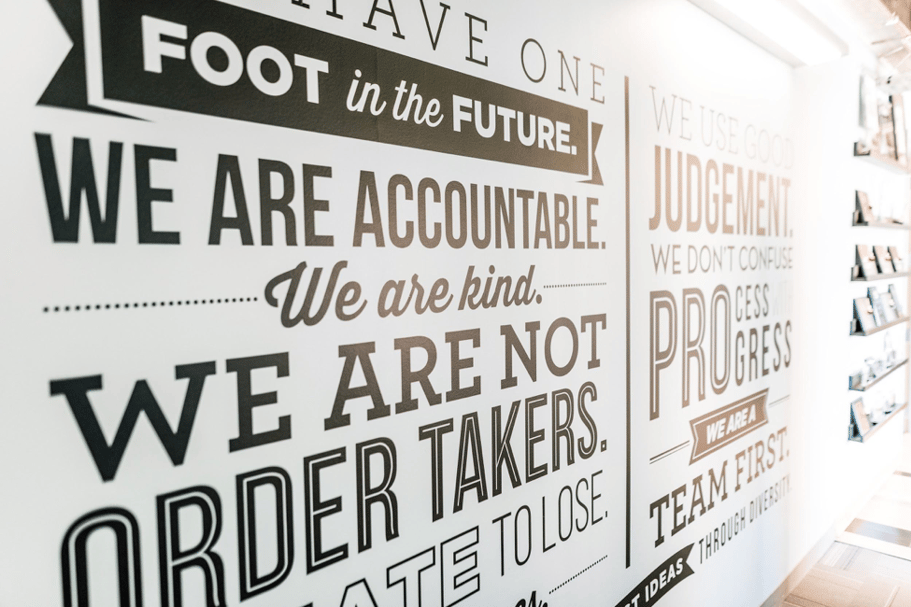 3. Embrace a Not-So-Humble Brag
Look, you can and should be proud of the great media coverage you're getting (at InkHouse, we certainly are!). Your employees are also going to get excited -- it feels great to work for a company that has positive, top-tier news coverage their friends and family might read. It may seem obvious, but let your team members know when this news happens. It's an opportunity to boost morale, and to encourage employees to amplify the news by sharing on their own channels. There are plenty of easy, free ways to internally promote press coverage.
Create a company-wide #press channel on Slack
Send a weekly news roundup via email
Talk about great coverage in team stand-ups -- and explain why it's so great
Publish top media hits to news screens in the office (and if you don't already have one in your entry, consider getting one)
Include top media hits in quarterly and/or annual company updates
Ask the CEO or other top executives to share with their reports/the whole company
4. You Can Only Ask, Never Demand
Employees should never feel coerced to use their personal networks -- in-person or online -- to share anything about work. Always make it clear that you appreciate and encourage sharing, but only if they want to. You should never penalize someone for not sharing content, nor push too hard for participation. It's a delicate balance to manage the tone of content and the frequency of sharing, but it's worthwhile to build an inclusive, respectful employee advocacy program that works for your office.
5. Create Visually Appealing Content
A picture's worth a thousand words -- and many, many more social shares. Make sure you're arming your employee brand ambassadors with super visual content. From company memories on #throwbackthursday, to office candids and group shots -- showcase your workplace culture with Insta-worthy images. Add selfie opportunities to employee outings (props and a fun backdrop can be a quick and inexpensive content driver). Hire a photographer and/or videographer for larger events, to ensure you get high-quality images. Give those people the directive to get as many faces as possible. For smaller, more casual outings -- like the "Taco Tuesday" our San Francisco office had last week -- ask a couple of people to take some pictures. Make it a mix of mostly candids with organized group shots.
6. Encourage Co-Creation, and Let Go a Little
One of the best ways to get employees to become brand advocates is to give up some of the control. When you encourage people to co-create content, they're more invested and thus more likely to share the results.
At InkHouse, our CEO's "Connected Culture" series poses a new question each month to every employee. She then writes her posts based on the team's responses, sharing her point of view but also bringing more voices into the conversation.
7. Make it Super Simple and Easy
Employees are doing you a favor when they amplify your content, so make that favor as easy as possible. When sharing a news article, provide a potential social media post they can copy and paste or customize. If an executive gives a fantastic interview, include some time stamps and quotes along with the Vimeo or YouTube link. Make sure blog post links are optimized for social sharing so the image and description don't need to be cleaned up. The less time and effort it takes for your team members to be brand ambassadors, the more success you'll have.
To learn more about our approach to employee engagement and content amplification, connect with us on social or email workwithus@inkhouse.com!