Celebrating International Women's Day
Sunday was International Women's Day. To celebrate it this year, I was honored to get to post some questions to two female leaders among our clients in the healthcare field. I wanted to know how they view the healthcare space regarding women's equality, how they lead as women, who they admire, and what advice they have for others. Their humble and honest answers are a call for women to lead our own way, and to create the lives and careers that fill us up.
Following is my Q&A with Sally Buta, CTO, VP Development and Co-founder of PatientKeeper, which provides healthcare applications for physicians; and Susan Sandberg, President and CEO of MelroseWakefield Healthcare, community healthcare serving north suburban Boston.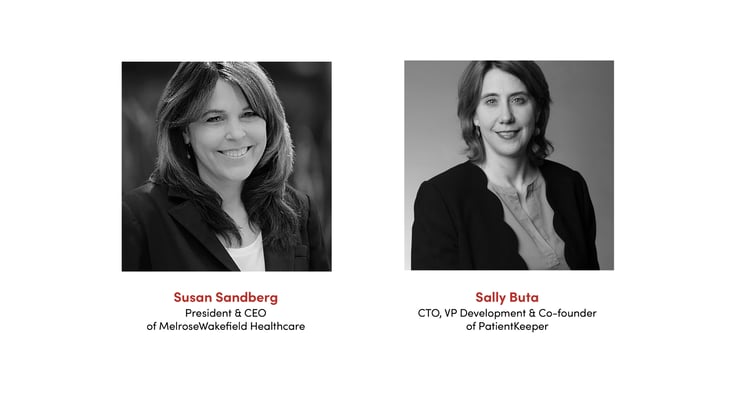 What's the top women's issue in the healthcare field right now?
Sally: The top women's issue in healthcare is all about cost and access. As we know health insurance premiums and co-pays are ever increasing. It doesn't matter how great our healthcare system is or what we can do to care for disease, if we can't access it, either because we can't afford it, or because it isn't available either due to scarcity or ability to get to care. As women, whether or not we work outside the home, often, we are still much more responsible for planning for and caring for our and our family's health. The younger generations are turning more and more towards urgent care/minute clinics as they are both known costs and much more readily available than standard physician offices.
Susan: Women represent over 60% of the workforce in healthcare in the U.S. right now, but only about 30% of the senior level and C-suiteroles. When I first started working in healthcare, the only female in the C-suite of a hospital was the chief nurse executive. This has changed dramatically over the years, and I am proud to work for a system that defies these odds. At MelroseWakefield Healthcare, 60% of my Board of Trustees and 50% of my senior leadership team are female. We spend time as a board and team discussing ways to ensure diversity of our teams beyond typical discussions of male versus female. Our workforce and the patients we serve here in north suburban Boston are diverse in terms of age, ethnicity, religion, gender identification and more. As a community provider, it is important for our staff to represent the communities we serve.
We've been seeing lots of headlines about the pay gap. What does it look like from your perspective?
Susan: Ensuring fairness and equity to all in terms of compensation is important. The chairperson of our Wellforce (MelroseWakefield's parent company) Board of Trustees is female, our chief human resource officer is female, and I, of course, am female. We utilize external consultants to assist us with setting pay standards for employees across our system without regard to gender. Of course there is still much work to be done industry-wide, but we are starting to make headway.
What's one way you lead differently than most of the male leaders you know?
Sally: Leadership is all about getting your team to work well. It's not about who makes the decision. I ask for advice all the time, especially from my peers and reports. I am certainly not the expert for every decision I have to make -- and for some -- no-one is the expert. My goal is to get information from wherever I can, and with that, make the tough decisions. I try to get consensus when I can, but other times, I just make the decision and then get the team to execute. To me, ensuring that the best decision is made for the situation, and we are all working together to make it happen. Some of the male leaders I know need to be seen as the ultimate decision maker or the "alpha." They try to make others feel uncomfortable to show that they are the most important. I just don't need that validation. That said, I have been extremely lucky to work with the teams I have, and I rarely have had to work with that "alpha" attitude. HCA Healthcare, PatientKeeper's parent company, cultivates a "servant leader" culture. As a result, they have some of the best leaders I have gotten to work with. In our recent hiring processes, we have instituted a "No jerks rule" and that is working well for us.
Susan: I don't find the need to compare myself to male or female leaders. I find that I lead with an emphasis on empowerment, collaboration and fairness. Some men are accused of leading with dominance and control; I am confident and very comfortable elevating others publicly for the work we do as a team, and I don't need constant personal validation for wins we make as an organization.
As a woman, what do you wish you had known at the beginning of your career?
Sally: I would rephrase this question to: "What advice would you give to another woman at the beginning of her career?" Early in my career, I realized that no-one can "have it all." There are always sacrifices to be made. You can choose to "lean-in" and throw yourself into your career and you will by necessity give up something else -- be that spending time with family or friends, your hobbies, or self-care. And that's ok! But you don't have to if that isn't what you want. Each of us has to define what is most important to ourselves at this time in our lives and not apologize for it. Choose your path in life. Make your decisions deliberately – don't let the circumstances make them for you.
Susan: The importance of coaches, mentors and advocates was something I stumbled upon early in my career. I was very fortunate to connect with others I admired who encouraged me to grab opportunities and take chances early on. My abilities and confidence grew as a result, and I make sure to offer the same opportunities to young managers.
What women do you most admire and why?
Sally: The notorious RBG! Ruth Bader Ginsberg has dedicated her life to our country and our people. She has made huge changes for our country and we wouldn't have the equality we do without her. She has worked within the system, pushed and changed the limits, and yet never compromised her integrity. While many revolutions come about when people break the rules and constantly challenge the establishment, those who do the behind the scenes work, the slower, smaller changes yet still moving the barriers, are the ones I admire.
Susan: There are so many. While younger, I was inspired by Amelia Earhart for her bravery and leadership in a male-dominated field. I've also admired a few political trailblazers such as Madeleine Albright, an immigrant who served as the first female Secretary of State, and the woman she paved the way for, Condoleezza Rice, who became the first black woman to serve in that role. Finally, I believe writing skills to be very important. I admire Peggy Noonan's exceptional gift for penning her thoughts and fostering constructive dialogue of current events.
Happy International Women's Day! May we all lead toward bringing people together, as these two women are doing. I'm so grateful to both of them for sharing their wisdom and experience.