Even When the Tide is Low: First Place Essay in "Aren't We Lucky?"
1st Place Winner
"Will the tide rise again, Mama?"
"Yes, it always does."
"Aren't we lucky?"
The smells of salt and fish and earth swirl around us. I close my eyes and tilt my head toward the sun. My four-year-old has her sweatpants rolled up to the knee to allow her little goose-bumped legs to wade uninhibited in the frigid April tidepools. She's not waiting for my response. Her last question wasn't a question at all but a fact said with total assuredness. She is snail hunting with her mom and new baby sister—to her, we are lucky.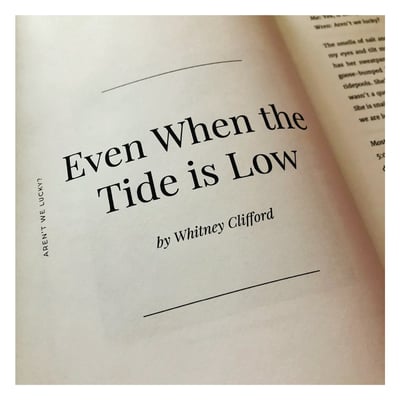 Most mornings, I don't feel lucky. I wake and stare at the clock: 5:03 a.m. I'm waiting for my baby to cry out and hoping she doesn't wake her big sister. My chest is tight, and I can feel the adrenaline start to pump in my veins— hot and fast. I breastfeed Ivy while fielding Slack messages. As she drinks, I'm relieved that her pure sweetness is unaffected by what feels so toxic inside me, that my DHA has not been completely replaced by cortisol. I seek inspiration from mommy influencers for crafts to do with Wren and try to squeeze the lengthy project into ten minutes. I put on a "happy face" and make breakfast.
A pandemic forces you to make seemingly impossible decisions. How can I keep the girls home from school and childcare so we can still see my close family members? How can I succeed at work while not overburdening my mother with additional responsibilities? How can I take the place of teachers and friends and activities when my husband still goes into work? How can I be a model of strength for my daughters when I feel so defeated? For someone who has historically prided herself on being able to balance complicated tasks without breaking a sweat, I have finally been knocked to the ground by a quarantine wrecking ball. And the worst fear of all? How can I keep four generations of my family safe?
That matters especially today, because my grandfather is moving in with my parents. My grampie's name is Ralph. Wren shares his strong middle name—Wood—a fact he boasts about often. I sought an additional connection between these two people I loved so deeply, even though they are naturally connected—with ninety years and my heart stretched between them. To get to us, he sold his home where he and his wife had been living in a Floridian retirement community for the past twenty years. He sold his car. He left his things and his community, who adored him and made him the grand marshal of their annual parade, in a red Camry convertible. He flew about 1,500 miles (he could give you the exact mileage without hesitation) with my mother at the height of the pandemic.
That kind of bravery and optimism is what I grew up expecting from the summers he spent with us. I remember him driving around with the top down in his aviator sunglasses, boat shoes, and chino shorts, showing off his tanned, strong, leathery legs. When he arrives this summer, however, things are drastically different. He requires an oxygen tank full-time, has lost an extreme amount of weight and the better part of his eyesight. As we show up, masked, in my parents' backyard to greet him, it is gut-wrenching to see my hero like this. Over the course of the next few months, he is in and out of the hospital. His wife also experiences severe health issues and must move in with her daughter. My mom alternates between mothering my children and mothering her father. Often, when I pick up my girls, Grampie's in his green recliner, doing leg raises, his tanned, leathery limbs still so muscular, just like in those chino shorts.
"I have to stay strong," he says one day. And I cry.
"You are, Grampie—you're doing so well. Keep it up, I'm proud of you."
"Because of you, I'm proud of me," he says.
The endless months pass, and his health improves. He has gained weight and is no longer on his oxygen tank. I continue to be stuck in a manic limbo. I work late. I clean. I play. I wake and stare at the clock. I feel desperately alone, even though I don't have a second to myself. When I ask him how he does it, he says, "Every day I keep moving, and the next day I do the same, plus a little more." He is a master of refocusing and has learned to take pleasure in the little things. He spends the entire day baking an apple pie and enjoys each and every step, from prepping his ingredients to taking the first sweet bite. He painstakingly puts Christmas cards together for his eleven grandchildren and nine great-grandchildren to hang on their trees, decorating each with stickers, being patient with his shaky fingers as he hole-punches and adds curled red and green ribbon.
Grampie and I talk about the pandemic; he is almost blind but can see that I am struggling. "You amaze me," he says. "You do so much and do it well." I need as much of this man as I can get. This man who, the day he came out of the hospital, went to get his wedding ring fixed so that he could send a picture to his wife so she would know where his heart was. My husband, Justin, and I decide to spend weekends playing rummy with Grampie. He always keeps score in his notebook—filled with charts, names, and numbers in his unmistakable, all-capital-letter handwriting—and he always wins. His afternoon cocktail pour is heavy, and his math is as impeccable as his clothing. His crisp flannel button-down is tucked in, and he's still so handsome, I barely notice the drops of blood on the sleeve from where his paper-thin skin has torn again.
While we play, I stare at him as he squints to see the card faces, plotting his next move. My insides ache with love for him. When I'm with him, time stops. And this is what he has been trying unknowingly to teach me—the secret to his resilience. I'm not rushed, multitasking, or staring at the clock. I'm just there, with my grandfather, and all is well in the world. I have been trying to be impenetrable for a year, gripping things so tightly that people can actually see my struggle, whereas his strength lies in letting go. Not giving up—the opposite, in fact: pushing ahead even when the tide is low. Slowly but steadily moving forward, each day doing the same, plus a little bit more. His comfort zone has been demolished by the momentum of life's unrelenting push and pull. Still, he's not anxious in anticipation of the tide going out again; he knows it's going to happen. He also knows he can wait until it comes back in.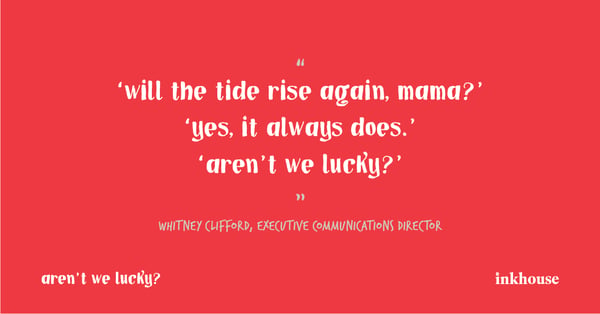 In his honor, I take deep breaths and force myself to stop, if only for seconds at a time. "You're missing it," I warn myself. I wake and watch the early-morning sun peek through bamboo blinds, quietly sprinkling light across my bedroom wall. I let tears stream down my cheeks while slow-dancing with Justin to the Moana soundtrack in our kitchen, as the girls run wildly around us before bedtime. And on a hot July afternoon, I cheer loudly, uninhibited, as Wren swims underwater for the first time, her dripping face beaming with pride as she breaks through the surface.
Yes, so very lucky.
---
This essay won first place in our 2021 employee writing contest and appears in our book, Aren't We Lucky? Stories of Resilience from the Inkhouse Community. Download your copy here.