Twitter is Tops for Staying Up-To-Date
Nov 02, 2012 admin
When Beyoncé posed the question, "Who run the world?" Her answer was, "Girls." I would argue the answer might actually be "Beyonce," but that's beside the point. Yet regardless of who is running the world, or what is going on, the best place to find out about it remains everyone's favorite micro-blogging site, Twitter.
Twitter broke out as the timeliest of newsfeeds when Pilot Chelsea "Sully" Sullenberger landed US Airways flight 1549 on the Hudson River and Twitter user Janis Krums tweeted the first photo published of the plane on the river.
It was this "Miracle on the Hudson" that made Twitter the place to find out about news first. First being the key word. But today, particularly after this week's tragedy of Hurricane Sandy, Twitter has become not only the place to find out about news first, but the place to follow a story unfolding, period.
The updates were heartbreaking, but informative. The photos were awesome and breathtaking, in the worst sense of both words. Real (well, mostly), and in real-time. Sites everywhere were aggregating their own slideshows to demonstrate the devastation, often pulling photos directly from the Instagram and Twitter feeds of those affected. It was the way to keep tabs on friends and colleagues as we'd monitor for evacuation updates, power statuses and ways to help.
For me, as well as some of my colleagues here at InkHouse, there are key folks we follow, and more importantly trust, to keep us informed and serve as not only a resource to break the news, but see it out. These sources search statuses, keywords and hashtags, retweeting to give folks different perspectives, following every side of the story and pushing it out to those waiting for an update. They become the eyes and ears of some of the biggest stories affecting our lives each day. And here are three of the people who do it best: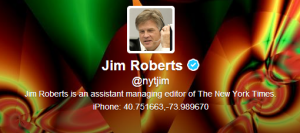 @NYTJim is Jim Roberts, assistant managing editor of the New York Times. His Twitter feed is full of constant updates of issues important to his readers and followers. InkHouse founder @Bamonaghan shared with him on Twitter how grateful she was for his updates during the Hurricane, as she was not able to reach her siblings but could at least remain updated because of his Twitter vigilance.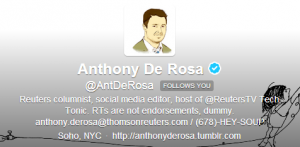 @AntDeRosa is a columnist and social media editor for Reuters, as well as the host of ReutersTV's TechTonic. His Twitter feed pumps out today's top stories. But don't be fooled by the fact he's the TechTonic host. His stories aren't focused on just technology, but some of the most important stories happening across the street, across the country and across the globe. Beth also thanked him yesterday, we can't figure out when he sleeps!

@ACarvin, senior strategist at NPR, was referred to by The Guardian as "The Man Who Tweets Revolutions." He pushes out constant updates of worldwide importance, known for giving additional voice and reach to those in the Middle East. Uprisings in Egypt, terror in Syria, Carvin shares the words and photos of those fighting the fight every day, and brings a level of truth and transparency to issues that may seem a world away.
Everyone on Twitter, whether an individual, brand or business, should have folks they follow as go-to resources for information. For me, as an individual, it's the reporters I've listed above. But for a brand, it might be analysts, or influencers, who provide the most valuable and up-to-date information in your Twitter feed. It's not only important to follow along, but also to engage and share information so that others may find you valuable to follow in return.
Who do you believe is a "must-follow" to stay informed on the issues impacting our lives daily? Who will you turn to for your election updates? Let me know on Twitter - @LMokaba