What the Trump Election Means for Public Relations
By Beth Monaghan and Tina Cassidy
There is much to analyze about Donald Trump's winning presidential campaign, and we'll leave most of that dialogue for your awkward Thanksgiving gatherings. What we want to discuss here are the ways in which we believe this election cycle could profoundly affect public relations.
First, we know that Twitter and Facebook

--

and many others who analyze the media industry

--

are taking a hard look at how much fake news flooded social channel feeds, especially in the final months of the 2016 election. Fake news outperformed real news in this election cycle, as we can see in this chart below from
Buzzfeed's Craig Silverman
.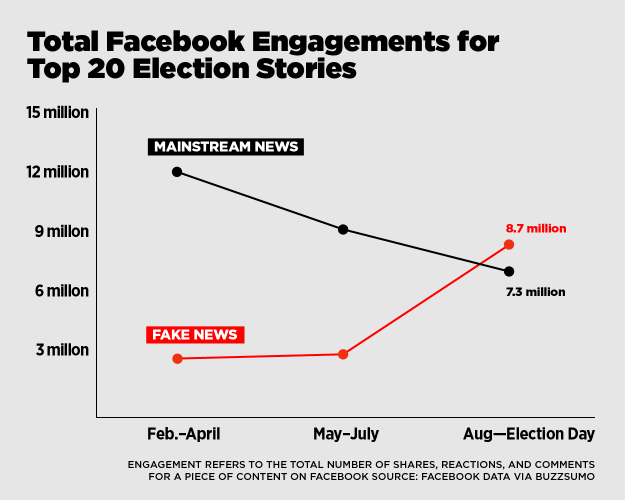 "During these critical months of the campaign, 20 top-performing false election stories from hoax sites and hyper-partisan blogs generated 8,711,000 shares, reactions, and comments on Facebook," Silverman wrote.
Second, we have become addicted and immune to shocking headlines. Of course, we've always known that controversy breeds interest. But how can we now go back to headlines that are merely informative and don't require exclamation points? This will be a challenge. Headlines are everything in the race for eyeballs because they are the things that drive clicks. In the good ol' days of three years ago, clickbait titles were about 10 puppies you have to see before you die. During this election cycle, we have seen real and fake headlines we could have never imagined, including, "Pope Francis shocks world, endorses Donald Trump for president" and "FBI agent suspected in Hillary email leaks found dead in apartment in murder-suicide." These were both false and are fueling a skepticism in the fidelity of the news.
Worse, we also know that, as our news feeds become a traffic jam of information, readers aren't even clicking past the headline -- or checking the source -- before sharing it. Take this fake headline from a real news source: "Bernie Sanders Could Replace President Trump With Little-Known Loophole." It got 90,000 likes on Facebook, and if you click on the headline, the second paragraph says this: "There is no loophole that allows a random person to assume the office of president. That's pretty basic common sense but yet you clicked or even shared this article anyway. Now that right there is the real point of this post…"
Third, we saw Trump's campaign operate as digital first. He prioritized Facebook and Twitter over television, and conducted massive A/B testing -- sometimes more than 40,000 variations of an ad -- to see which ones were the best clickbait and adjusted for real-time engagement. This takes paid social media to an Olympic level. We all need to up our game.
And finally, the media outlets we read "in the stream" (that is, on our Twitter or Facebook feeds) are becoming more polarized; websites or news outlets are either trusted or not trusted sources of information, which means now more than ever a PR professional needs to understand their target audience. For example, 10 years ago, The New York Times may have been the equivalent of a media hit home run for almost anyone. That may no longer be the case. For others, coverage on Fox might be revolting. (Insert sad/confused/angry face emojis here.)
All these factors show that the way readers consume information is changing, and therefore public relations will have to change with it. Here are a few important takeaways:
Trust is at stake. Audiences have become skeptical and exhausted in the wake of this election and there will be an increased burden on any organization for transparency and accuracy. For example, you'll need more proof to back up your claims and show the source of the data. And it had better be right.

Fact checkers are watching

. We also think humor and authenticity will go along way in humanizing messages and helping brands or businesses connect in a meaningful way. Podcasts were

popular

during the election and we think they could get a bump now because they evoke a quality of sincerity and authenticity, and may be consumed out of the stream. (Raise your hand if you need a Facebook break.)

Paid social media is more important than ever. As Trump showed us, algorithmic headlines that understand what engages your audiences are the next big thing.
Investigative journalism may have a resurgence. The media's business model has been in flux since the Internet was born, but we foresee a shift back to the tenets of quality journalism. We're rooting for it! In fact, there's been a recent surge in readership, subscriptions and donations to media such as the New York Times, Washington Post and NPR.
Video and images will matter more. Major news outlets used images and native video in their Facebook election coverage. In the sea of information, photos and moving images will continue to prove their worth in attracting those clicks and shares.
We will see a shift to untainted platforms. Whether it's Medium or LinkedIn, readers are looking for neutral ground with no clear agenda. This is good news for self-publishers and Content Bureaus such as ours.
At InkHouse, we're also looking at what's next in storytelling and how to adapt. While there's a lot to digest here even before those Thanksgiving discussions, we believe there are even more new trends for 2017. We'll be sharing those thoughts soon.