The Story Behind Click Bait Cluttering Your Facebook Feed
The Manufacturing of Virality Through Click Bait's Shock and Awe

---

I probably should have titled this piece, "The Shocking Facebook Fact That Will Blow Your Mind!!!" I've been complaining about my Facebook feed, which is cluttered with the click bait of inspiration and outrage, some well meaning, some not.
At first I thought I might be getting jaded as I approach age 40, but it turns out that my sincerity filter is working quite well. I've identified the root problem: BuzzFeed seems to have have spawned some fairly ugly stepchildren who are vying for our clicks and likes. Have you heard of Most Amazing Galaxy, Damn, Buzz Newsworthy, OMG Facts or Dose? I hadn't either. But you've seen their headlines, which accompany beautiful photos and often include phrases such as "blow your mind," "then this happened," and "you won't believe." Many like the "!?" combination and others employ the "!!!" for extra emphasis. In college, a professor told me that women use more punctuation than men because they can't express themselves as well, so I'll let this last point go in the event that I'm scarred and therefore biased. Here are some recent examples:
I became interested in how these posts proliferate on Facebook, so I picked a story and followed its path. The piece below was posted by a Facebook page called, "How Many Likes for This Photo?" With a black and white horse running in a pasture as its cover photo and a thatched-roof beach house hovering over a teal blue ocean as its profile photo, this page is affiliated with http://www.mostamazingviews.com/, which has a "contact us" form, but no information about who runs the site. Its Facebook page offers just this: "Combination of all sorts of pics and videos that contain heart warming stories and amazing events from many walks of life from all over the world ♥" Even so, 280,000+ people have liked it, including some of my own Facebook friends. I did find out who runs the site though: a man in Cairo. If you want to take a look, you can find out who owns any site by doing a domain registration search through Network Solution's WhoIs.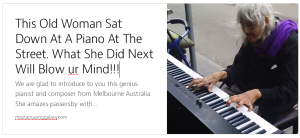 This is a phenomenon of what Sam Whitmore of Sam Whitmore Media Survey calls the "attention economy." Websites and Facebook pages like those I described above aren't in the content game: they're in the attention game. They want clicks to fuel ad sales as far as I can tell, but the business model behind these headlines is still a bit of a mystery since some don't have ads). If you visit their home pages, you may or may not find information about who runs them.
However, you will likely see this type of pop-up ad. Apparently 312,000+ people have liked Damn.com on Facebook, which I'm guessing is the source of most of its traffic.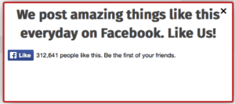 BuzzFeed started this party and imitation, as the saying goes, is the sincerest form of flattery. I have no quarrel with BuzzFeed though. I admire its approach to reinventing the news business. Whitmore says that BuzzFeed is amassing the requisite revenue to become a formidable source of original and award-winning journalism, aspiring even to winning Pulitzers one day. He also pointed me to BuzzFeed's data blog, which is a directional hint at where "engagement science" is heading. There's no denying BuzzFeed's traction. Mary Meeker's Internet Trends Report put it at 130MM+ unique visitors with 3x year-over-year growth. And as you can see from this Nieman tweet, even The New York Times is taking BuzzFeed seriously.

BuzzFeed aside, while consumers scrutinize Facebook's privacy policies, they aren't yet aware of the machine behind "virality." Very often, virality is manufactured. In the Jan 5, 2015 issue of The New Yorker Andrew Marantz's "The Virologist" describes the efforts of one company, Spartz Inc., which has built a thriving business by creating websites dedicated to click bait. Marantz quotes Neetzan Zimmerman, former chief aggregator at Gawker, regarding the originality of Spartz's content for one of its flagship sites, Dose. Zimmerman said:
"On Dose, you see entire lists that are ripped whole-sale from other Web sites and passed off as their work." He noted, however, that it does not make Spartz's work any less lucrative.
This all rubs me the wrong way, more so because the approach works. I'd like to think we're all smarter than that — that we don't fall for the manufactured (albeit luring) bait. On Facebook it doesn't matter I suppose. We're all just there for fun, after all, and what's wrong with a little inspiration? Nothing really.
I'm in the business of ideas though as the co-founder of a PR firm. I'm not interested in temporary traction. My clients want to build "customer loyalty" and create the right "customer journey." These terms may be tired buzz words, but loyalty is not a joke. Loyalty requires a company to earn its customers' interest, and then expand that into trust. A click is the first date and if your content is boring or inauthentic, it's the last one. To get a person to click, read and come back for more, you need thoughtful and original content that sprouts from unique and validated viewpoints. That is what makes platforms like Medium so powerful (Medium prioritizes reads over clicks).
Will these click bait headlines continue to proliferate on Facebook? I don't know. Facebook has a history of requiring authenticity. Last year it stopped letting drag queens use their stage names and in 2012, it disabled millions of pet accounts because they were "fake" (the drag queen rule has been reversed and I see a lot of pets on Facebook these days). Is click bait authentic? Probably. Original? That's questionable. It might not matter though because the rules for personal and business pages are different, which likely puts this in the realm of preference versus policy. Whatever happens, it has my attention and I'm going to keep watching (while I try not to click).
As for me, I'm spending more time on Instagram (owned by Facebook), which, by its inherent nature focuses on beautiful — and original — photos. Have you seen the @Food page? Sarah Phillips, the creator, has 340,000 followers and a recent profile in The New York Times, "The First Family of Instagram." For you dog lovers, check out #DogsofInstagram. More please.